Morning Toast April 4th
Morning Toast: Etsy Impact | UFC and WWE become knockout champs | Q1 = grow, grow, grow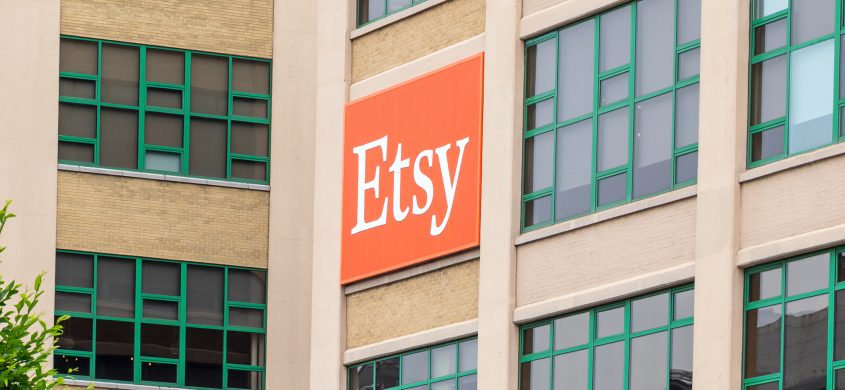 Market News
Grow grow grow....despite it all, this seems to be the outcome from the first three months of the year. And that's not an April Fools hot take. Despite seeing the biggest banking failures since the financial crisis in March, which has fuelled talk of another crisis, the S&P still closed up 3.5%, with Microsoft and Apple accounting for about half of the S&P's gain in March.
Yet more bumps seem to be in the road ahead. This week we have the U.S. jobs report, which could go either way, whilst yesterday, oil prices jumped as much as 8% after OPEC and its allies made the surprising decision to cut output. The major issue for the global economy here is that a production cut could be inflationary and lead to higher petrol prices, just at a time when central banks are starting to think about slowing rate rises in line with slowing inflation.
Stock Spotlight

UFC in shock $13.5 billion takeover of WWE to create combat sport knockout champ. 
The deal, which was confirmed late on Monday night, sees WWE and UFC join together in a new publicly traded combat sports and entertainment company.
It is expected to value WWE at $9.3 USD billion ($A14bn) after its stock finished trading on Friday at $91.26 USD per share while the UFC is valued at $12.1 billion.
This deal means that three huge personalities in media—Endeavor CEO Ari Emanuel, UFC President Dana White, and WWE Executive Chairman Vince McMahon—will be working at the same company. That's gonna go well!
Under the deal, Endeavor would own 51% of the new company. Emmanuel is expected to be the head of the new company, while Vince McMahon will remain on as executive chairman, according to CNBC.
McMahon gets to cash out of the wrestling business he bought from his dad in 1982 for $1 million and built into an entertainment juggernaut. Impressive.
Stock Spotlight

Dot Swoosh, Nike's big bet on Web3.
Nike unveiled Dot Swoosh in November 2022, describing it as a "new, inclusive digital community and experience and a home for Nike virtual creations." Exactly what that means is a little unclear, and the company kept things mostly under wraps at first.
That began changing late last year, as Nike set out on tour across the country, holding small workshops and seminars in sneaker stores, seeking to educate the fanbase on its Web3 ambitions.
Despite the lack of detail, the brand's ambitions are stark. "Just as Nike has been the conduit to sport, Dot Swoosh is going to be the conduit to Web3," Iris Yen, Head of Marketing and Community at Nike, told the crowd. "When we think about our mission here, it is onboarding the next millions of users to Web3."
Dot Swoosh arrived on the heels of another major retail brand's Web3 debut: Starbucks's Odyssey program.
What sets Nike and Starbucks apart from the Web3 experiments of their respective competitors is their focus on "solidifying a foundation" for Web3 architecture, where users can interact with a platform they're familiar with and "still connect to Web3 in the capacity that is a little easier, a little more frictionless," explained Chris Neff, global head of emerging experience and technology at the agency Anomaly.
Part of that pitch is largely ignoring the lexicon of Web3—nowhere on the Dot Swoosh site do the words "NFT" or "crypto" appear. That's intentional. "You've seen a lot of people move away from 'NFT' to 'digital collectibles' because NFTs have now become a dirty word," Neff said.
The slow rollout doesn't seem to bother those who have had the chance to hear Nike's vision firsthand. At least in Philadelphia, a majority of the crowd seemed just to want to hear Nike's pitch, which emphasised utility and hypothetical Dot Swoosh tokens, that could, maybe, one day, unlock Super Bowl tickets (a rather shameless appeal to homerism considering all the Eagles swag in the store). Some degree of revenue sharing between virtual creators on Dot Swoosh and Nike was also mentioned.
Sustainability News

Handmade craft marketplace Etsy announced the launch of the Etsy Impact Investment Fund, allocating $30 million to impact investments targeting economic empowerment and sustainability.
In a blog post unveiling the new fund, Chelsea Mozen said, "Etsy's investments through this fund align with our impact goals to help accelerate the development of the creative economy, support financially underserved communities, and promote environmental sustainability".
Established in partnership with impact investing platform ImpactAssets Capital Partners, the first set of allocations from the fund include Grameen America, an organisation that provides capital, training and support to aspiring women business owners from low-income and marginalised communities, and renewable energy investment firm Greenbacker Capital Management.
Andrea Jung, President and CEO of Grameen America, said:
"With Etsy's generous support, Grameen America will equip more women business owners with affordable capital and financial resources so they can grow their businesses and thrive."
Charles Wheeler, President of Greenbacker Capital Management, added:
"Through this partnership and initial investment, we are thrilled for Etsy to join our efforts aimed at helping communities across the United States run on clean power."
The new impact fund announcement follows the launch by Etsy in 2021 of the Etsy Uplift Fund, established to support nonprofits that work to lower barriers to entrepreneurship and create opportunities for economically disenfranchised communities.
Alongside the launch of the impact fund, Etsy unveiled new partnerships for the Uplift Fund, including with Grameen America to provide digital business education training and financial services to entrepreneurs, AltCap to provide microloans for artists and creative entrepreneurs in Kansas, Missouri, and Texas, and new small business grant program partnerships with Hello Alice and the Global Entrepreneurship Network (GEN).
Banking News

UBS may cut its workforce by 20%–30% (as many as 36,000 employees) following its emergency takeover of Credit Suisse, SonntagsZeitung reported. Swiss prosecutors are also investigating the deal for potential criminal offences.
Douugh, did you know?

We've gone over it before, but we thought we'd give you a little refresher on researching the right stocks for you because, let's face it, research can be a boring thing! But when it comes to investing, sadly, it's vital to make the right decisions. 
If you're wondering where to even start researching or what to look for, here is a list of things we've put together that will help you choose the right stock for you!
 1. Collect Company research materials
Review the company's financials. Highlights from financial filings and important financial ratios, these can be found oncompany websites or financial news websites. Just start with a simple google search.
2. Get specific
Focus on the following numbers & ratios:
Revenue: the 'top line' amount of money a company brought in during the specified period.

Net income: the "bottom line" total amount of money a company has made after operating expenses, taxes & depreciation are subtracted from revenue.

Earnings per share (EPS): earnings divided by the number of shares available to trade. It shows the per-share profitability of a company.

Price-earnings ratio (P/E): a measure of a stock's value that tells you how much investors are willing to pay to receive $1 of the company's current earnings.

Return on equity (ROE): reveals how much profit a company generates with each dollar shareholders have invested.
3. Do some investigative research
Here are some questions you should try and find answers to:
How does the company make money?

Does the company have a competitive advantage?

Does there seem to be effective management?

What could go wrong for this industry/company?
Investing involves risk. You aren't guaranteed to make money, and you might lose the money you start with.
Douugh Australia Pty Ltd ABN 76 617 000 138 operates under Douugh Australia Pty Ltd AFS License No. 500063. Although we endeavour to ensure the accuracy of information we provide, we do not accept responsibility of liability for any errors or from any loss from its use. Any information provided is general advice only and has been prepared without considering your objectives, financial situation or needs. We don't provide personalised advice or recommendations. Before making any investment decision you should consider whether it is appropriate for your situation and seek appropriate taxation and legal advice. For more details, see our FSG, Terms of Service and other disclosures.
Stay informed with the
Morning Toast
Save time with curated and delivered financial news and insights.