Douugh scores double win in Australia's best share trading platform awards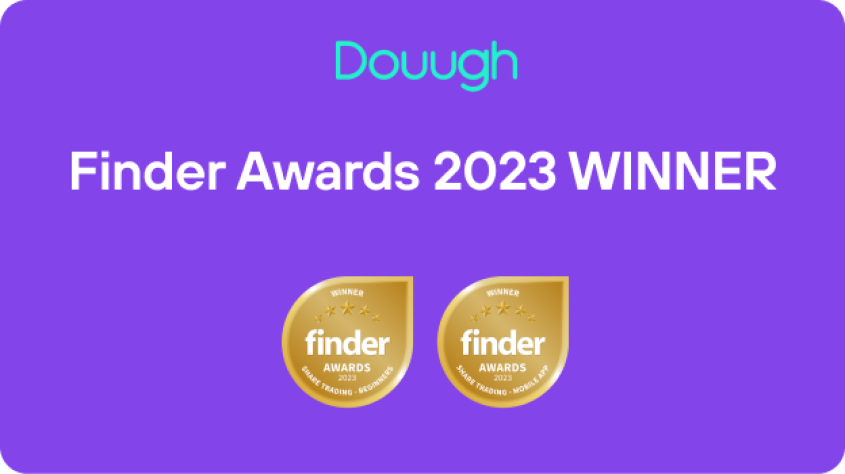 Douugh has taken the crown for 2 prestigious share trading platform awards less than 6 months after launching in Australia.
The savings and investment app has been named Australia's best share trading platform for beginners and best mobile investment app in the highly esteemed 2023 Finder Awards.
The Finder Share Trading Awards recognises Australia's most competitive platforms within the investment space. This year, Finder's data scientists and product experts compared over 115 features from 39 platforms to find the best in the market.
Features rated in the analysis include platform and brokerage fees, customer ratings, ESG investment tools, educational resources and trading and research tools. Each category then weighs these different features to create a final average score.
New kid on the block
For those watching this space, it might have seemed like Douugh came out of nowhere.
Having only launched in early 2023 after its merger with ethical investment platform Goodments, Douugh was quick to impress by becoming one of the first platforms in Australia to offer a micro-investing feature alongside direct equity purchases.
We were particularly impressed by the auto-pilot recurring investment option, which is a feature that's still relatively rare among investment platforms in Australia, despite the growing popularity of micro-investment apps such as Raiz and Spaceship.
The option to micro-invest into ready-made portfolios using auto-pilot or directly purchase fractional shares and ETFs is both immensely useful for investors and a long time coming for the industry.
Top-rated platform
Douugh's unique offering played a big role in it being recognised in the Finder Awards just a few months after its official launch.
In the best mobile investment app category, it was awarded the highest overall score thanks to its impressive customer app ratings, intuitive design, low costs and easy-to-use features.
Notably, Douugh achieved one of the highest average customer ratings on both the App Store and Play Store among any of the platforms Finder reviewed.
It also scored highly for its mobile-friendly features, including biometric login, instant funding functionality and easy sign-up process. Douugh's app particularly stands out because it's simple to navigate while also offering detailed company information, such as ESG scores, P/E ratios and analyst ratings.
The second accolade, the best share trading platform for beginners award, acknowledges Douugh's exemplary efforts to cultivate an environment that fosters learning and growth for new traders.
The platform's simple-to-use interface, coupled with its educational hub, enables users to easily navigate the complexities of the stock market.
Like the best mobile app category, Douugh similarly scored highly for its user-friendly platform and features. Of particular note for this category was Douugh's auto-pilot and micro-investment features, which are perfect for investors just starting out.
On costs, Douugh won points for its $0 brokerage deal and its low minimum investment of just $1, making investing accessible for everyone.
That it offers fractional share trading gave additional points for this category. Fractional shares are a great feature for investors that are testing the waters because they let you invest in fractions of shares, rather than whole shares, substantially reducing how much you need to invest in any single trade.
For instance, instead of purchasing 1 Apple share for $180, you could buy one-tenth of a stock for $18. Or even one-hundredth of a stock for $1.80. On other platforms, there's often a minimum investment of $500 into any single company, an amount many new investors simply aren't willing to risk.
Where to next?
It's clear Douugh is a formidable contender in the financial technology space.
As more Aussies gravitate towards investing as a means to attain financial freedom, the demand for reliable and user-friendly platforms is on the rise.
Douugh's double victory at the Finder Awards solidifies its position as a frontrunner in the financial technology industry.
With its commitment to educating and empowering beginner traders, coupled with an award-winning mobile app, Douugh is certainly poised to set new benchmarks in the investment realm.
About the author:
Kylie Purcell is the senior investments editor at Finder. She covers all areas of investing and specialises in financial products including online trading platforms, robo advisors, stocks and ETFs. She has written about and produced financial content for 10 years having previously worked at Sky Business (Your Money), TVNZ and The Advisor magazine.