Douugh soft launches first phase of its financial super app in Australia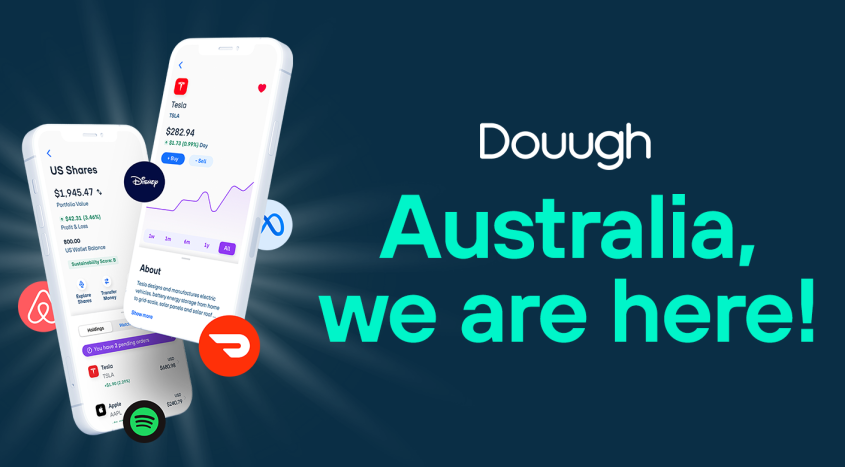 Today marks an important milestone for Douugh with the soft launch of the first phase of our financial super app in Australia. We're excited to announce it's now available to download and sign up. 
Douugh's mission has always been to foster financial wellness through a single super app, empowering Australians to take control of their money and create winning money habits to build long-term wealth on autopilot. 
Following the unfortunate closure of our AU banking partner Volt Bank in June, we could no longer launch the entire bank, save & invest product we've spent years building in the USA (and spent the first half of 2022 adapting for AU). We were therefore faced with a subsequent need to quickly adapt our AU offering. 
As building wealth has always been central to our vision, the first phase of our launch is focused on making it easy to build long-term wealth and help you reach financial independence, without the need to bank with Douugh in order to access the key features. Simply connect your existing bank account to get started and you're good to go.
What does the first phase offer?
Our focus is to make investing easy, by helping you take control of your money and build a regular diversified investment strategy. With the mantra - Invest for a decade, not a day! 
We've built an investment app that's designed for savers, not day traders. Start your journey to building long-term wealth by selecting a pre-built Portfolio as a base investment, managed by BlackRock (the world's leading asset manager), then expand your investments across fractionalised US Shares - allowing you to invest in the global brands you know and love. 
What is Autopilot?
Autopilot makes it super easy to set up a recurring investment plan and stick to it! 
Simply set, forget, and repeat! Select how much you want to invest, and how often (weekly, fortnightly, or monthly), then allocate how much goes into your chosen Portfolio and Shares. 
Autopilot then automates your recurring deposits from your connected bank account and your places investment orders for you, so you can sit back, relax, and know your money is working for you.
This will be followed with the addition of AU Shares and Crypto trading, before further expanding our feature set. 

What is this Douugh Super App you talk about?
We're working hard to secure a new partner in Australia that will allow us to launch our vision. Leveraging the advanced technology and features we've developed in the USA, we will then look to roll out the second phase of our financial super app.
Re-imagined everyday spending & budgeting features designed to empower customers to better manage their expenditures and smooth their cash flow, with the goal of helping people save even more to invest in their future. 
We'd love your help!
Our vision is to be the leader in providing innovation and inspiration for everyday people to achieve financial independence. That means you! Download the app and sign up today to start your journey to building wealth and financial independence.
We'd love to hear your feedback, so drop us an email and help us continue to build and grow Douugh. Thanks again for your patience and support. We're excited to finally be live in Australia.

Cheers,
Andy Taylor, Founder & CEO