Morning Toast Feb 21st
New era for Meta | Bitcoin on the rise | US markets closed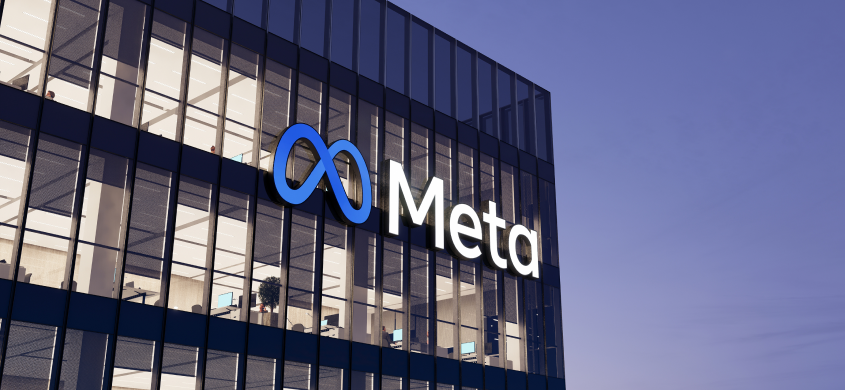 Highlights
The US stock and bond markets are closed today for Presidents Day.

Crypto trading takes no days off, and despite the fallout from FTX's collapse and a flurry of crackdowns by regulators, Bitcoin has continued to rise, where it topped $25,000 to hit an eight-month high.

Australian shares are poised to open lower ahead of another busy reporting day. European shares edged higher overnight; US markets are closed for a holiday.

ASX futures were down 27 points or 0.37% to finish at 7254 points near 7am AEDT.

Tuesday's reporting calendar for ASX companies includes:

Alumina (AWC) |AMA Group (AMA) | ARB Group (ARB) | BHP (BHP) | Coles (COL) | G8 Education (GEM) | HT&E (HT1) | Hub24 (HUB) | Ingenia (INA) | Judo Bank (JDO) | Macquarie Telecom (MAQ) | McGrath (MEA) | Monadelphous (MND) | Monash IVF (MVF) | Stockland (SGP) | Tabcorp (TAH) | Viva Energy Group (VEA)
Sustainability News

The International Financial Reporting Standards Foundations' (IFRS) new global sustainability and climate disclosure standards will be effective as of January 2024, according to an announcement by the IFRS's International Sustainability Standards Board (ISSB).
The new reporting standards are expected to be released by the end of Q2 2023, with companies beginning to issue disclosures against the standards in 2025. The ISSB said that the decision to set the 2024 effective date answered "strong demand from investors for companies globally to disclose comprehensive, consistent and comparable sustainability-related information."
Stock Spotlight

Mark Zuckerberg announced yesterday a big update to his online platforms.
The Meta CEO introduced a subscription service for Instagram and Facebook that will allow users to purchase blue badges that mark them as verified. Known as Meta Verified, the service will launch in Australia and New Zealand this week and hit other countries "soon".
Similar to Twitter Blue, Meta Verified eschews the traditional concept of the blue checkmark as a gift bestowed to notable people like politicians and celebs.
Now, it's open to anyone willing to pay. But there are differences between Twitter's and Meta's plans:
Meta's is more expensive, costing $11.99 on the web and $14.99 on mobile. Twitter costs $8 and $11, respectively.

Meta will also require Meta Verified users to confirm their identity using a government-issued ID, something Twitter doesn't require.
With it, you'll get higher "visibility and reach" on the platforms and increased access to customer support, among other perks.
There are a couple of ways Meta Verified could help Zuck sleep better at night.
Zuck said the overarching goal of the service is "increasing authenticity and security across our services." Meta Verified could help tackle some of the fake account issues that have plagued the company's platforms.

With its metaverse dreams a long way off and revenue declining, Meta needs to kickstart growth ASAP. It's hoping revenue from subscriptions can offset some of the damage that Apple's privacy changes and economic uncertainty have dealt to its advertising business.
This is a big deal, not only for Meta but for your experience on social media. By promising increased reach in exchange for $$$, Zuck is cementing social media's evolution from a tool to keep up with your high school friends to a pay-to-play entertainment medium catering to professional content creators. As Bloomberg's Sarah Frier noted, "Get your good friends a group chat if you haven't already."
Douugh, did you know?
After decades of subdued interest in lithium, rapidly rising demand and prices have made "white gold" one of the hottest sectors in the mining world.
Batteries are a foundational technology in the transition away from fossil fuels. And for automakers to electrify their fleets and renewable energy developers to meet their aggressive goals, the world will have to make a lot more of them. At least for now, lithium is in almost every EV battery, and that means demand for the metal likely isn't going to slow any time soon.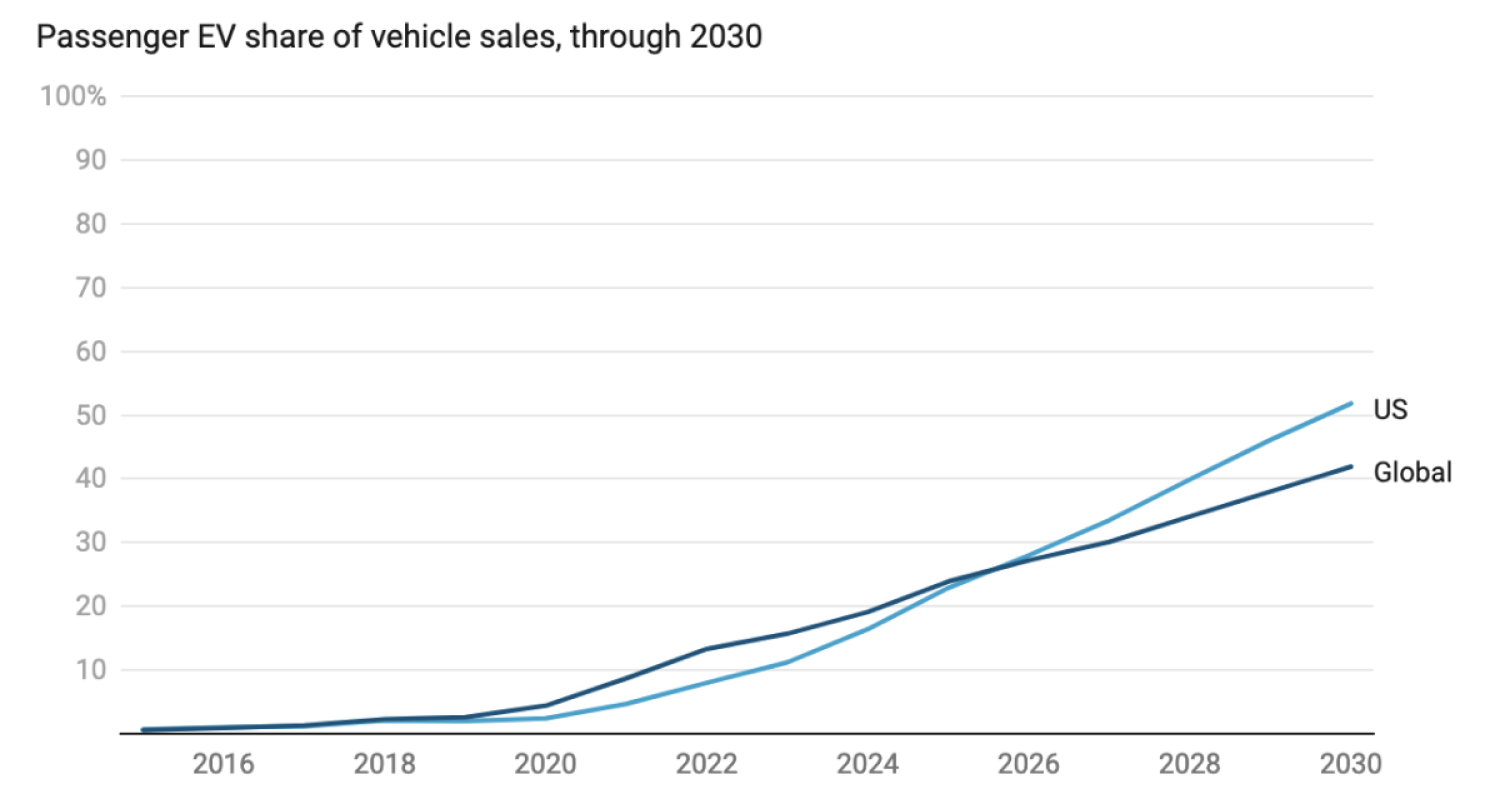 EV sales are rapidly driving the demand for lithium-ion batteries. Last year marked a potential inflexion point for the industry: EVs surpassed 5% of all auto sales in the US, and global EV sales are on track to more than triple by 2025, according to BloombergNEF.
By 2030, spurred by the Inflation Reduction Act and 2035 bans on sales of gas-powered cars in California, New York, and the EU, EVs could make up more than 40% of all passenger-vehicle sales globally and more than half of those sales in the US, according to BNEF.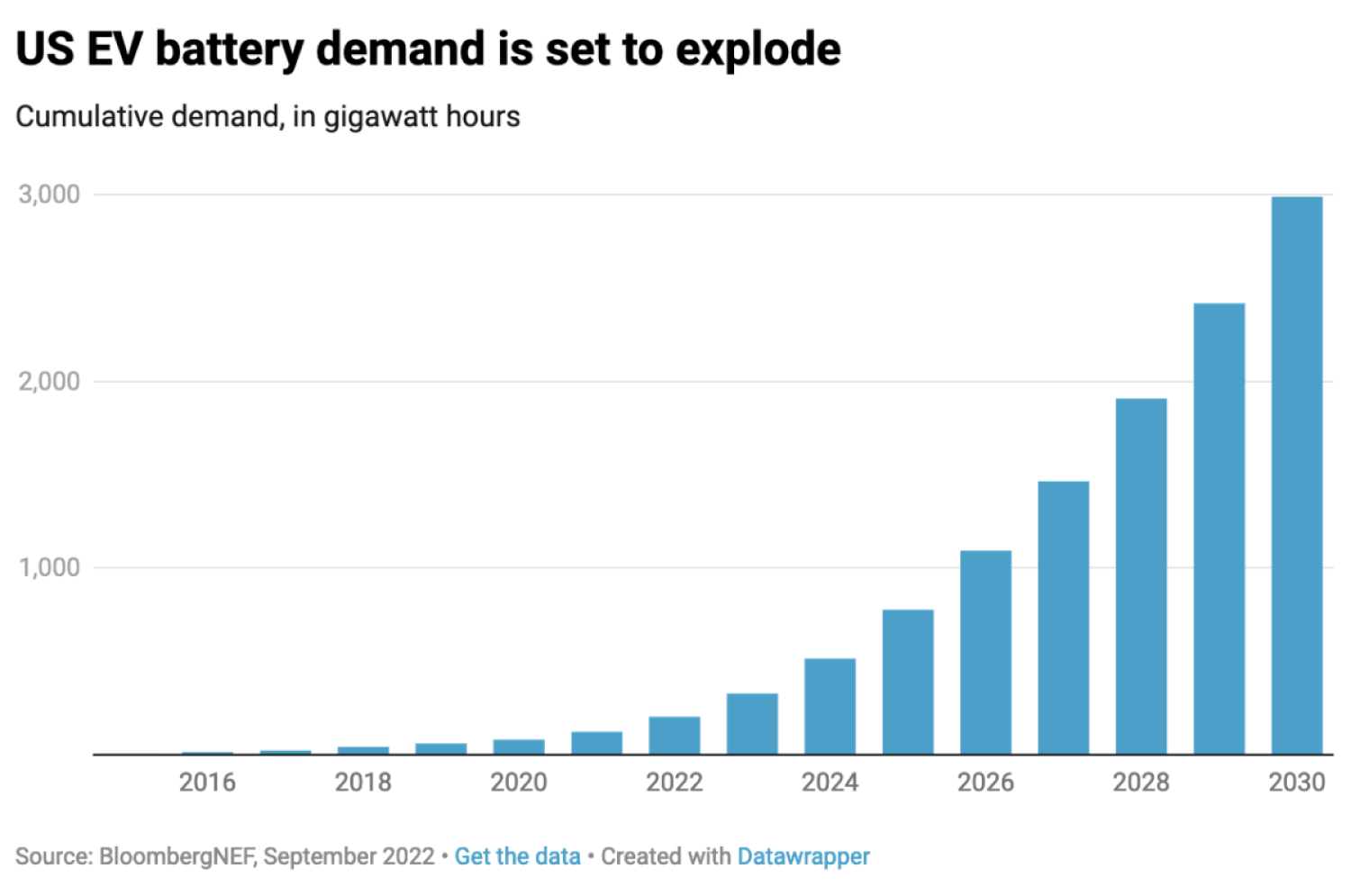 Battery companies and automakers are sprinting to scale up battery production. The latest projections from BNEF estimate that US demand for batteries in 2030 will be ~10x greater than demand today.
More than $129 billion had been invested in gigafactory projects as of the end of 2022, by a mix of battery manufacturers, automakers, governments, and private investors, according to Benchmark.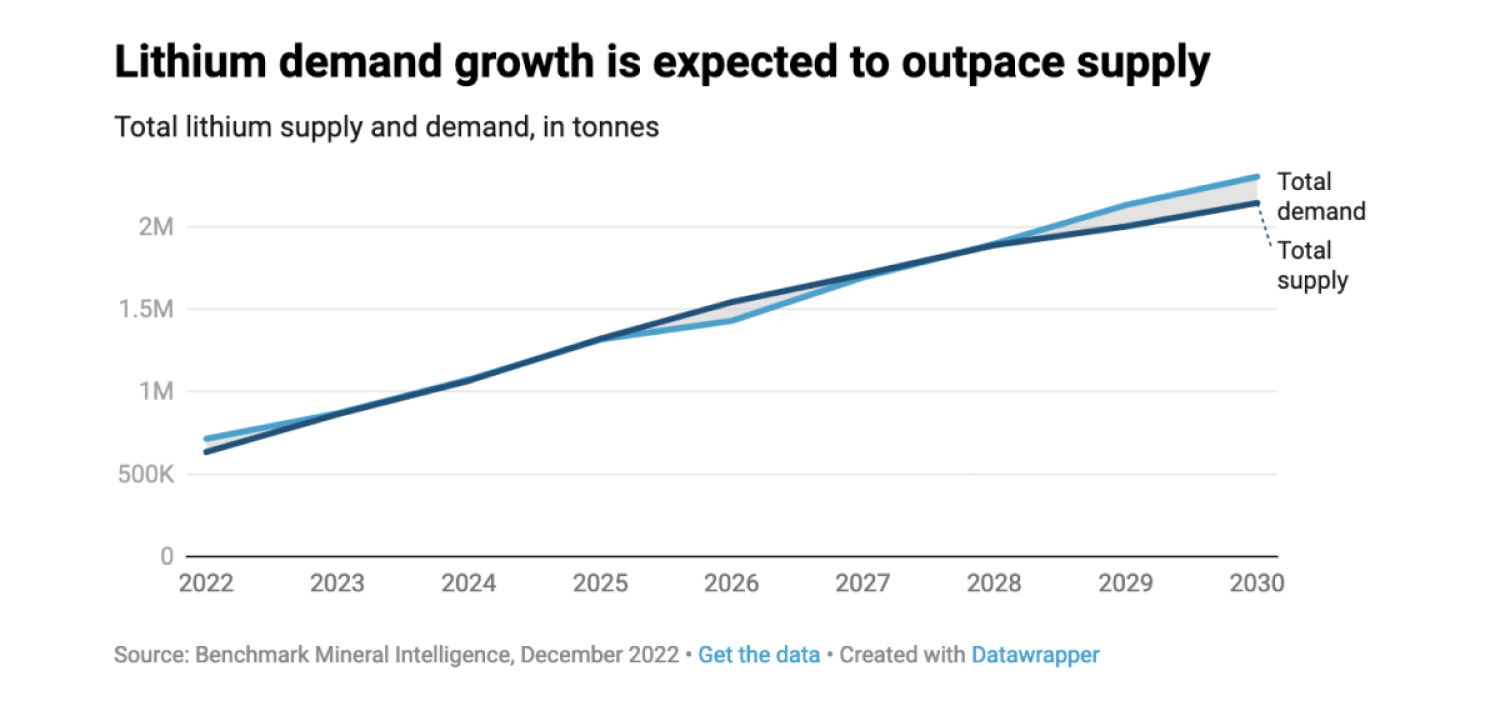 According to Caspar Rawles, chief data officer at Benchmark Mineral Intelligence, "the challenge that the lithium industry is facing is that it's not like you've got a short period where demand is expected to increase. It's increasing at a very significant level year after year after year.There are projects in development now that are expected to begin producing lithium in the mid-2020s, but there's still a lack of clarity about how the industry will address the long-term supply gap, he said."
Investing involves risk. You aren't guaranteed to make money, and you might lose the money you start with.
Douugh Australia Pty Ltd ABN 76 617 000 138 operates under Douugh Australia Pty Ltd AFS License No. 500063. Although we endeavour to ensure the accuracy of information we provide, we do not accept responsibility of liability for any errors or from any loss from its use. Any information provided is general advice only and has been prepared without considering your objectives, financial situation or needs. We don't provide personalised advice or recommendations. Before making any investment decision you should consider whether it is appropriate for your situation and seek appropriate taxation and legal advice. For more details, see our FSG, Terms of Service and other disclosures.
Stay informed with the
Morning Toast
Save time with curated and delivered financial news and insights.