Morning Toast March 7th
F1 on pole | 57% of Aussie companies greenwash?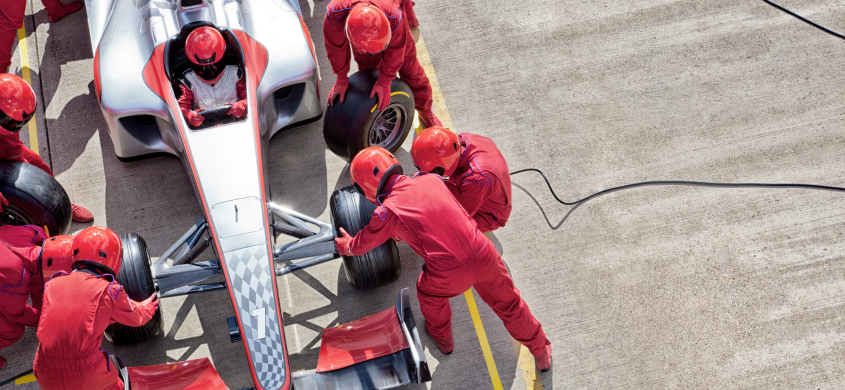 Market Highlights
This week features several potential pitfalls for the stock market:
First up is the U.S. jobs report on Friday - employment numbers have been on the rise, and continued strength in the Labor market could lead to more interest rate hikes.
Next up is Fed Chair Jerome Powell's testimony on Capitol Hill. He's expected to field questions on the trajectory of inflation and the looming debt-ceiling crisis. The markets tend to track his responses and tone - positive or negative.
In other news:
Stocks broke out of their slump last week, but investors still face black-diamond-level conditions in this jittery market.
As usual, the Fed is playing the boogeyman: In recent comments, officials have begun to signal that they plan to raise higher rates for longer to tame stubborn inflation.
Stock Spotlight

Formula One shares reached a record high as the racing season began in Bahrain on Sunday.
F1 is a multi-billion dollar industry, thanks to controversial former Formula 1 tycoon Bernie Ecclestone's success in attracting valuable TV viewing contracts and big name sponsorship for the sport and, of course, now with the Drive to Survive Netflix series increasing its global popularity.
It's not possible to invest directly in Formula 1 teams, of course, and it's worth remembering that racing is a highly risky investment. However, it is possible to trade indirectly in the sport by buying shares in companies associated with Formula 1.
Liberty Media, run by U.S. billionaire John Malone and part owner of radio company Sirius XM in the U.S., bought F1's parent company Delta TopCo in 2017 for $8 billion, and the company is publicly traded in the U.S..
Liberty Media – F1 in turnaround mode
Through a complex collection of companies, Liberty Media Corporation owns Formula 1, Sirius XM - the broadcasting company famous for outspoken host Howard Stern - and the Braves baseball group. Formula 1 has struggled over the past few years due to the worldwide Covid lockdowns. However, things are looking up for the company.
In its fourth-quarter results, Liberty Media said that Formula One confirmed its fixtures of 23 races, kicking off in Bahrain. It also signed a new sponsorship deal with Qatar Airlines under a multi-year agreement. Meanwhile, fan attendance of 5.7 million in 2022 was up 36% on the previous year, while TV viewership was up 36%.
"Formula 1 saw record attendance at its races in 2022 and we were once again the fastest growing major sport on social media," said Stefano Domenicali, Formula 1 president and CEO. "We are continuing to build fan engagement through our high-quality broadcast, enhanced content on F1 TV, social channels and new immersive experiences, including the F1 Arcade and F1 Exhibition products."
"F1's global relevance and sustainability efforts are enticing the entry of premier OEMs including Audi and Ford in 2026, and we are confident they will bring significant value to our sport. We look forward to a record 23 race calendar this year, including, in particular, the inaugural Las Vegas Grand Prix."
Full-year revenues rose by 20% to £2.6 billion (from £2.1 billion last year), while operating income increased by 160% to £239 million. However, revenues fell in the fourth quarter as fewer races were run, and media rights and promotional sales were lower in the period. Nevertheless, the Paddock Club enjoyed higher hospitality revenues due to record attendance figures.
Liberty Media Corporation shares have had a strong run this year and the shares are trading at a 10-year high.
Sustainability News

Australia's competition regulator, the Australian Competition and Consumer Commission (ACCC) said that it would be investigating companies for potential greenwashing after it conducted a study that found concerning environmental or sustainability-related claims from over half of the businesses reviewed.
The study involved an internet sweep by ACCC of 247 companies across a broad range of sectors, including energy, vehicles, household products and appliances, food and drink packaging, cosmetics, clothing and footwear, to identify misleading environmental and sustainability marketing claims.
The ACCC said that the study found that 57% of companies studied in the sweep were identified as having made concerning claims about their environmental credentials. By sector, the highest proportion of concerning claims was found in the cosmetic, clothing and footwear and food and drink sectors.
Douugh, Did You Know?

The S&P 500 ($SPX) is quite often mentioned, but not everyone knows what it is. Here are some things you NEED to know about the S&P, as an investor.
The S&P 500 (Standard & Poor's 500) is a stock market index that comprises 500 large-cap stocks listed on the NYSE (New York Stock Exchange) and NASDAQ. These stocks are chosen for market size (over $8.2+ billion), liquidity, and industry group representation, among other criteria; if they slip, they can be removed. The S&P 500 is considered a leading indicator of the overall performance of the US equity market and is often used as a benchmark for the performance of actively managed portfolios.
Companies are weighted by their market cap, specifically their float-adjusted market cap (which only counts shares that are theoretically available for retail investors to buy). That means the S&P skews toward larger cap companies, and tech stocks now account for over a quarter of the index's total value.
For more information on why it matters, jump over to the Academy to learn more.
Investing involves risk. You aren't guaranteed to make money, and you might lose the money you start with.
Douugh Australia Pty Ltd ABN 76 617 000 138 operates under Douugh Australia Pty Ltd AFS License No. 500063. Although we endeavour to ensure the accuracy of information we provide, we do not accept responsibility of liability for any errors or from any loss from its use. Any information provided is general advice only and has been prepared without considering your objectives, financial situation or needs. We don't provide personalised advice or recommendations. Before making any investment decision you should consider whether it is appropriate for your situation and seek appropriate taxation and legal advice. For more details, see our FSG, Terms of Service and other disclosures.
Stay informed with the
Morning Toast
Save time with curated and delivered financial news and insights.