A new Douugh App, a new journey!
The refreshed Douugh banking app experience is here. Banking has never been better.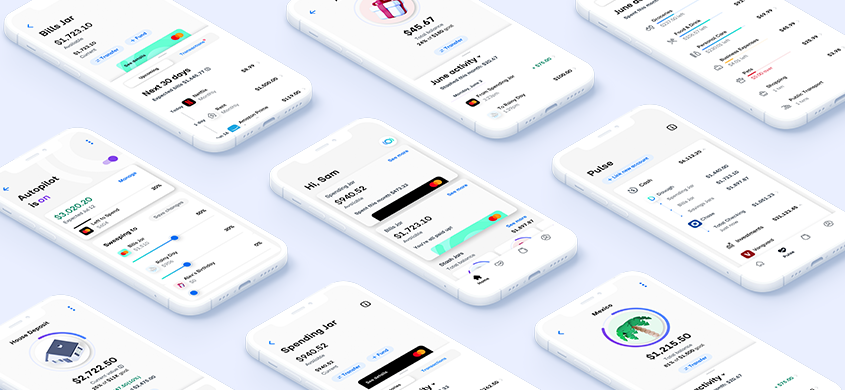 Exciting things have been happening here at Douugh HQ over the last six months and we're excited to give you a sneak peek of what we've been up to.
This marks the first in a series of releases of changes we'll be making across the app in August/September.
We've given the Douugh app a design refresh, as well as simplifying the layout and navigation. Giving you the information you need, easier and faster. Helping you better manage your money to reach your goals.
We've spoken to many of our awesome members and gained valuable feedback on what you love - and what you don't. We have to admit, we're pretty pleased with the result and can't wait for you to see the changes over the next few weeks.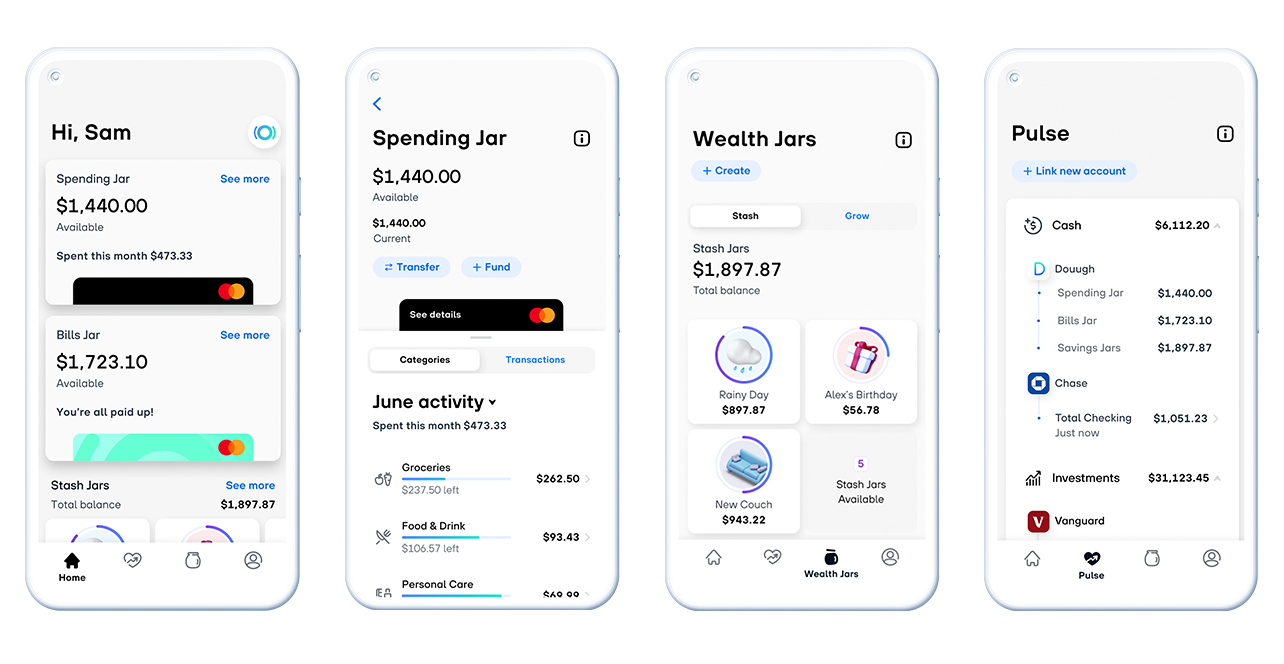 With the development and launch of our Android app, we used this project as a perfect time to go back to the drawing board. Our Product and Design team completed thorough research and talked to a plethora of members.
The aim was to build the most functional yet aesthetically appealing FinTech app available on the market.
The first release of Douugh's App 2.0 is landing this week with a few key changes to our main screens, with many more come:
A simplified home - We've given your Home screen a new design and layout for an easy snapshot of your Spending, Bills & Savings.
Your New Spending Jar - Everything to do with your checking account is now in the one easy-to-access place - view your transactions, spending categories & targets, and card management. As well as easy Transfer to Jars and fund your checking account.
Savings Jars are now Wealth Jars - A new home for your savings, to easily view and track your wealth. Savings Jars are now Stash Jars - a place to stash your cash to reach your short-term goals. As well as our new Grow Jars, giving you the option to put your money to work for you (coming very soon!).
New navigation - ​Easily access everything that is essential to your financial health from the bottom of the screen. Home - A complete snapshot of your money at your fingertips. Pulse - A single view of all your connected accounts (New design coming soon). Wealth Jars - Stash your cash for tomorrow or grow it for your future. Profile - All of your settings and profile in one convenient place.
What we did and how we did it
Gathering Intel
We kicked off with the Home screen by finding out exactly how you felt. We asked what your pain points were and if anything was missing or felt misleading.
In parallel, we dug into our behavioral data to understand what features you were using more than others, how you accessed them, and what you were doing with it. From this, we quickly understood that one of the main pain points was accessing key features. For example,
"How can I easily set my spending targets? I saw it once but can't remember how I got there." Or "I didn't realize I could tap on this button to access this part of the app; that's amazing!"
We were surprised to find ourselves having to explain our UI. To clear this up, we made sections look more tappable to give quick access to certain key functionalities.
The second highlight was members getting somewhat confused with the navigation;
They weren't able to easily find where to report their card lost or stolen, how to access their account details, or how to set up their Bills Jar seamlessly.

A few key functionalities were challenging to discover or set up from the get-go, with most being located in what we like to call "the junk drawer," which lived under [...] the fourth tab in the navigation bar.
We dug further...
Knowing the above, we thought more exploration was needed so we delved into our IA (Information Architecture).
To do this properly, we took a step back, mapped out all our key features, and asked members to do a card sorting exercise, which consisted of categorizing key features into specific product pillars, like this: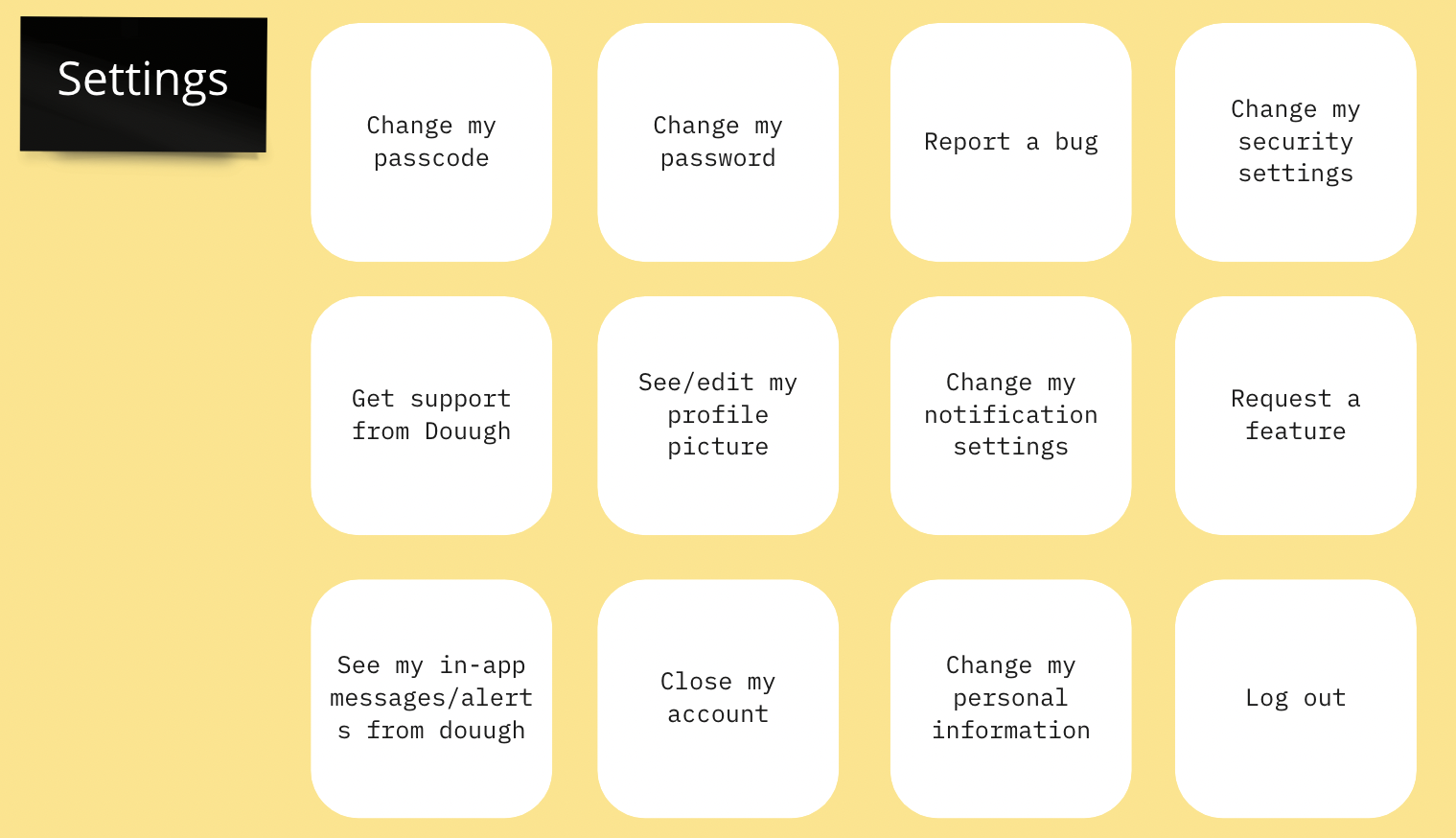 We got excellent results! Massive trends were uncovered, like card management, account management, and bank statements should all live under what we now call the Spending Jar. It makes sense, as it's all linked to their account, and that's where people would like to access those functionalities. We'll be breaking down the changes we've made to Spending Jar a bit later on.
After aggregating all the data, we came up with our new navigation structure as follow:
"Why" do members open up their banking app every day?

"How" can we help our members manage their money? This links to our core value proposition: Spend, Save, Grow.

"What" can we build to address all their needs & concerns.
The changes and improvements
We put all the above valuable information into action and made the following modifications.
A simplified home screen
The new, clearer design and layout for your money - Spending, Bills & Stash Jars (what used to be Savings Jars, we'll talk about those a bit later), gives a complete snapshot of your finances, with easy access to all your essential financial information.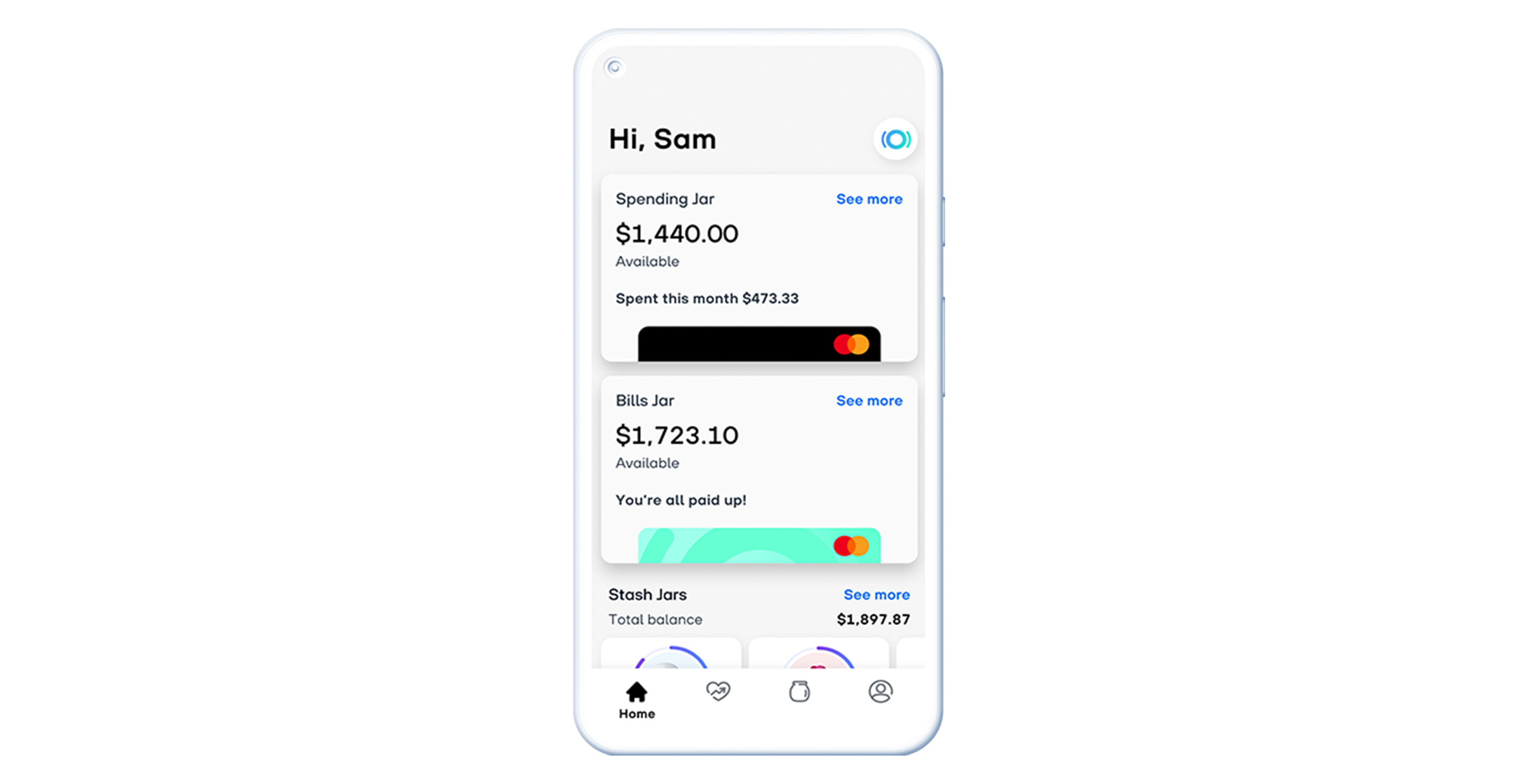 Autopilot
You used to locate Autopilot in that sidekick "junk drawer", but why hide our star feature and your best friend! Now you can quickly access your Autopilot's settings from the top-right icon on the Home screen.

Autopilot is at the core of what we do at Douugh; it's here to help you budget seamlessly, pay your bills in full and on time, and help you grow your money.
Spending Jar
We've listened to your feedback around the mix match of placement of all things to do with your everyday checking account. So now all things to do with your Checking Account live in the one easy to access place - Your Spending Jar.
"When opening the app we need to see how much we have left to spend at a glance and know how much we've spent so far this month."
Now you don't have to go to 4 different screens to view all your Checking Account info, easily access your:
Available balance

Transaction history

View your spending categories & targets

Your checking debit card management & account details

Easily transfer to your Jars and fund your account
Giving you peace of mind to spend with confidence with your Spending Jar.
We think the old school term 'Checking Account' is a bit dated, with Douugh's Jars structure, your money is now organized in an easy to manage way - now you clearly know what account is for spending, your bills, and your savings.
Your Spending Debit Card (linked to your Checking Account)
In the past, we found that members were confused with the two debit cards Douugh offers, "which one is linked to which account", "how to use them properly", etc. To simplify this, we've introduced the black debit card on the Spending Jar tile on the Home screen, helping members make a visual connection between card and account (this is also the physical card you get in the mail).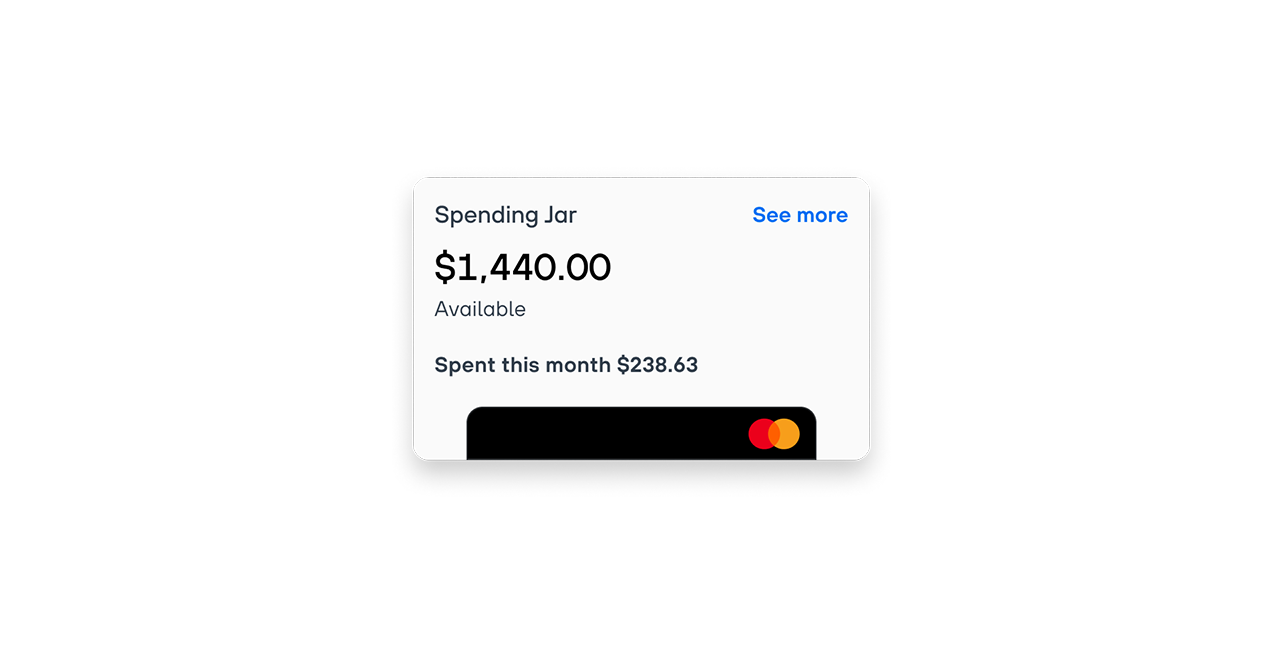 Bills Jar
Just like the Spending Jar, we've added the green card to the Bills Jar tile for ease of reference. You now access your Bills Jar solely from the Home screen. With a simple overview of Upcoming bill amounts and your Bills Jar balance to match.
One of the key call-outs for Bills Jar was members didn't know how to set it up seamlessly, so we've made it easier by taking members through a step-by-step process.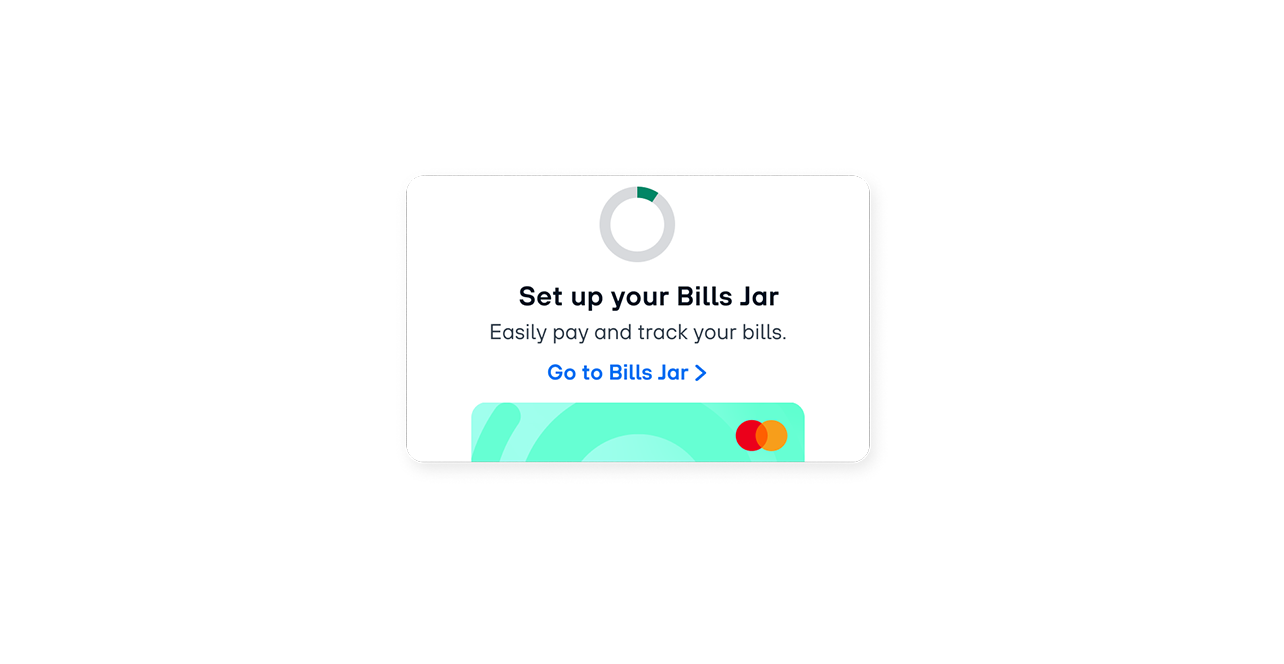 We've made the primary information our customer wanted front and center in bills; now, when going into the Bills Jar, you'll know how much is currently available in your account and what upcoming bills have been covered. Transactions in the Bills Jar now match the Spending Jar, so everything is consistent.
Wealth Jars
We've given this feature a lot of love!
It was called Savings Jars, but from now on it's called Wealth Jars. Why? Because we are all about growing your savings and building wealth.
Now you can either Stash your money for short-term goals e.g. a new TV, that trip to Mexico or something you need to set money aside for and don't want to spend it. OR you can Grow your money - put your savings to work for you. We will soon be introducing our new investment Portfolio Jars (more on this coming soon) The main changes to the Jars screen were driven by members asking to see more beneficial information regarding their financial goals. We moved Bills Jar out to be on its own and moving forward will focus purely on your savings and growing your Wealth. Stay tuned for more to come in this space!
One other issue raised was not being aware of the Stash Jars limit, so we've introduced a tile to surface the total remaining Stash Jars left available to create. We've also increased the limit, you can now have 8 Stash Jars - with a default Rainy Day there to always encourage you to have an emergency fund at hand for when it's needed.
New bottom navigation
One key area that the IA research and card sorting exercise brought to light was that members felt we hadn't structured the navigation based on crucial product pillars and accessibility. And so we came up with the below four essential navigation parts.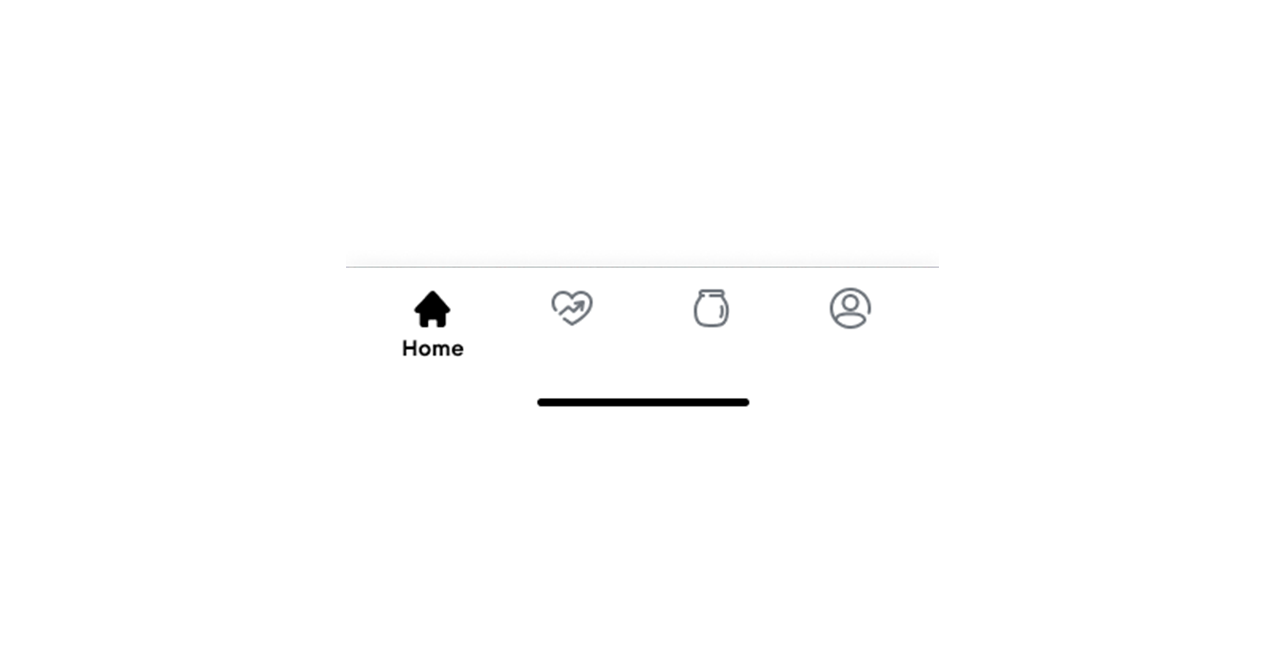 1. Pulse
Coming Soon...
Pulse used to be the Accounts screen; we found members didn't understand the balance shown on this screen:
"Is it my Douugh account balance or an aggregated number of all my connected accounts? Not sure…"
A lot of people found if they had a few different accounts like loans, credit cards, checking accounts, etc this screen got messy and was challenging to understand their money at a glance.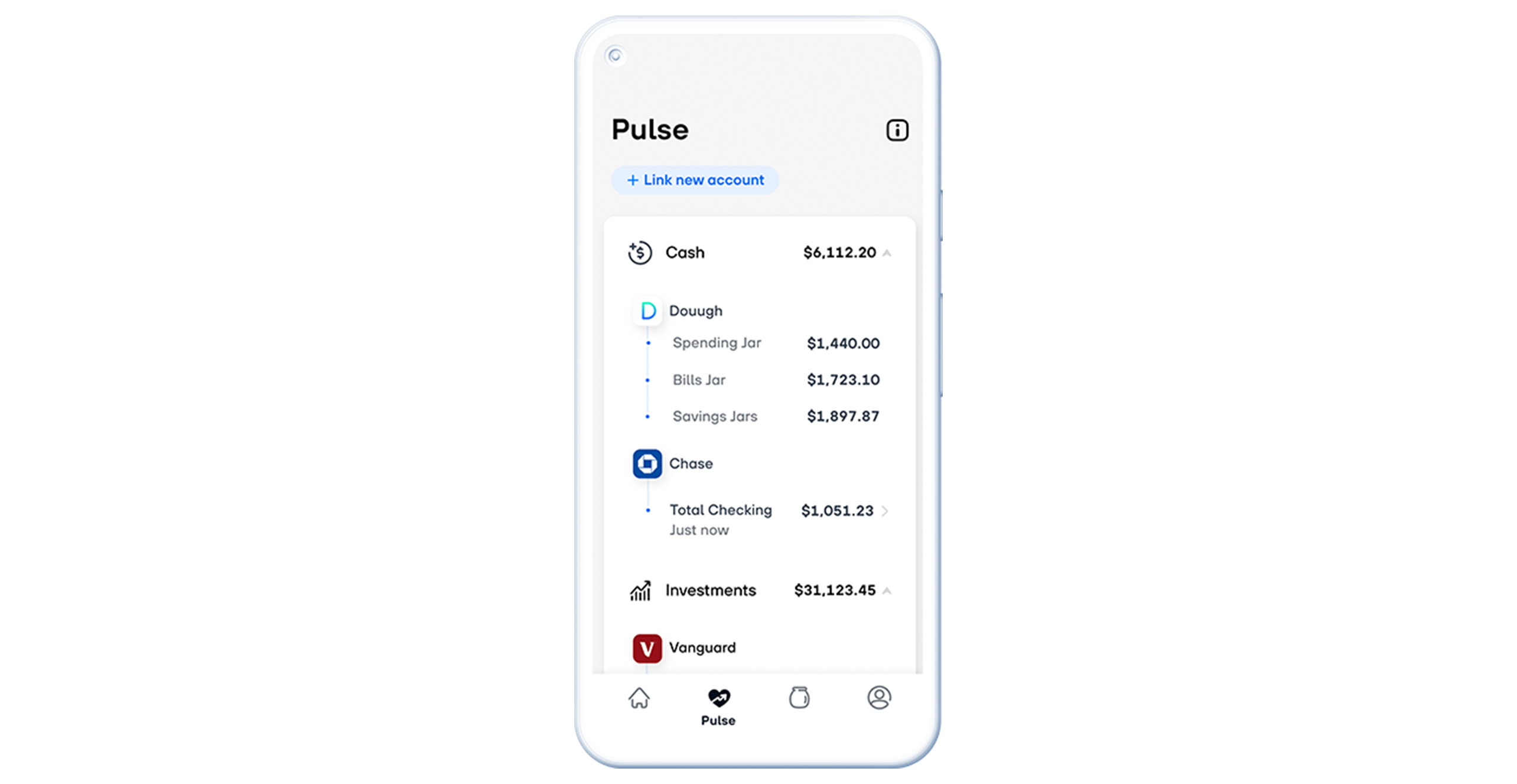 When redesigning the Account screen, we've decided to rename it to Pulse. It'll give a pulse of where all your money's at, in one single and digestible view.
Categorized accounts to separate assets and liabilities so that you can swiftly see how much actual cash you have, how much you have in your investments accounts, loans, credit cards, and so on.

It's made it easier to link new accounts as well, with a brand spanking new "Link New Account" call-to-action.
There's more work to be done in this area; we'll be adding weekly and monthly reports. For now, iOS members will see the Pulse screen with the old Account screen view until we release the updated version shortly.
2. Wealth Jars
Wealth Jars was originally called Savings Jars; we'll be introducing Grow Jars soon, including the brand new investing feature Portfolio Jars; keep a lookout for our announcement. In the future, Grow Jars will also host a plethora of other investment features like Single Stock Jars and Crypto Jars. Wealth Jars will host:
Stash Jars are for short-term savings like a vacation, Christmas, or a new laptop, whatever your exciting goal is within the next year.

Grow Jars will host investment Portfolio Jars where you can save for longer financial goals, like your wedding, your house downpayment, or your retirement.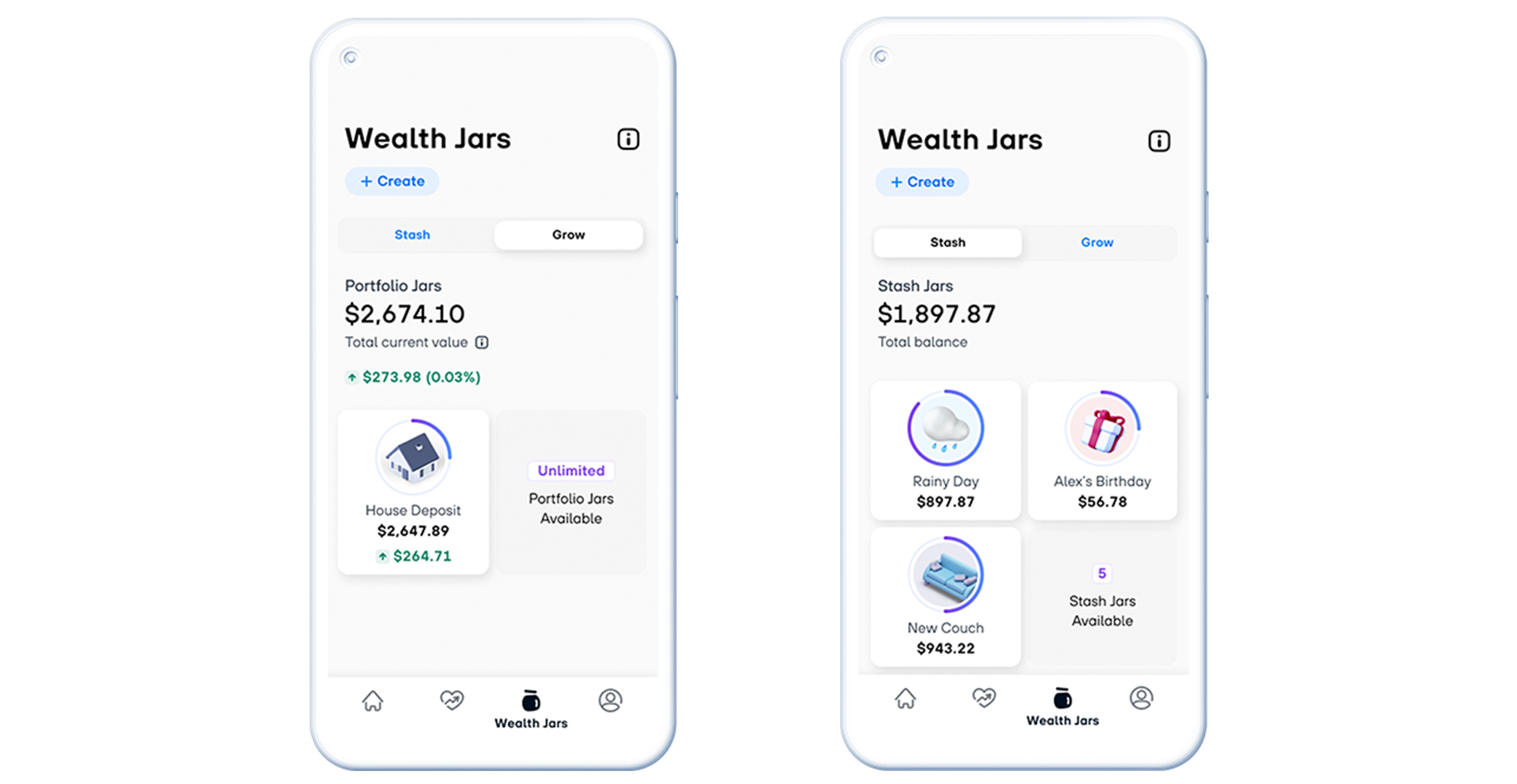 3. Profile
Last but not least, Profile. By surfacing critical functions of the app within Spending Jar, Bills Jar, Autopilot, and other places. We've reduced the noise in that famous "Junk drawer".
Profile is where personal details, security settings, ask for help or give feedback, legal stuff, you know, all that good stuff will live.
The IA exercise helped us clarify what needed to be cleaned up, and now it is decluttered and simplified.
So it's finished, right?
Absolutely not! As you've read we've done quite a lot, but this is just the tip of the iceberg! There is more to come.
We've been working to prioritize, design, and develop a few new features we hope to launch over the coming weeks and months. Some of these features address long-standing requests from our community; others are fresh ideas that reflect what we've seen and heard about the ways many of you use Douugh. Together, these features will keep moving us—and you—forward. We see this as a massive spring cleaning of the app and only the beginning of the improved app refresh.
Everyone here at Douugh HQ hopes you enjoy the new version. We invite you to download the Douugh app on your iPhone or Android device. We think you'll love it!
For our existing members, we're really keen to know what you think! Please drop us a line and we'll be in touch to pick your brain on product@douugh.com. We strive to improve your experience and help you live a financially healthier life!
Kim Boutard Product Manger @ Douugh