Access Fee-Free ATMs
Douugh has partnered with MoneyPass to enable users to use 37,000 fee-free ATMs nationwide.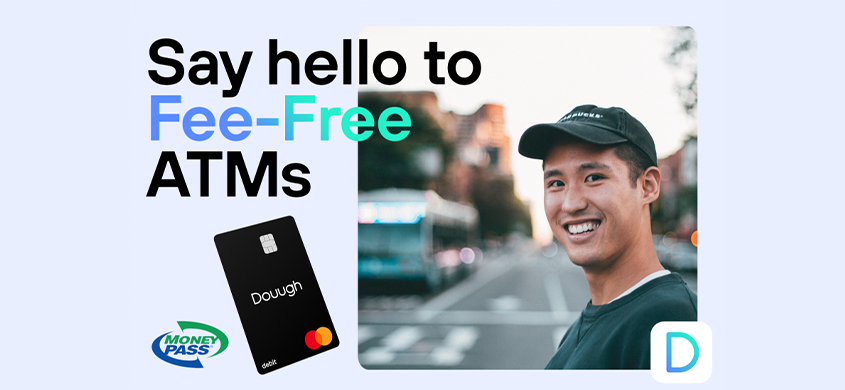 Say hello to fee-free ATM withdrawals!
Douugh has partnered with MoneyPass ® to give you secure, convenient access to fee-free cash withdrawals at 37,000+ fee-free ATMs nationwide.
What Is Douugh's ATM Network?
Douugh now offers a large ATM customer-centric system with no in-network ATM fees. Douugh's ATM network works with MoneyPass ®.
MoneyPass
Its network has more than 1,700 organizations and 95 million users. As such, it is easy to find a MoneyPass ® ATM for fee-free use.
Skip the ATM fees
In some U.S. cities, you'll find the largest banks haven't set up a physical shop and where they have, availability may depend on the number of brick-and-mortar branch locations.
With a mobile bank account like the one you can open through Douugh, you can access 37,000+ ATMs without having to worry about fees.
Want to avoid ATM fees?
Fees can add up and we don't want that for you. The best way to avoid out-of-network ATM fees is to find an ATM within the MoneyPass network.
To ensure the transaction you're making is surcharge-free, look for the MoneyPass ® ATM or MoneyPass ® displayed on the ATM screen.
Please note: Some ATM operators typically charge a fee to use their ATM. Fees will apply for ATM usage outside of the Douugh MoneyPass ® network.