Celebrating the Women of Douugh
International Women's day is a great time to reflect on how amazing the women of Douugh are.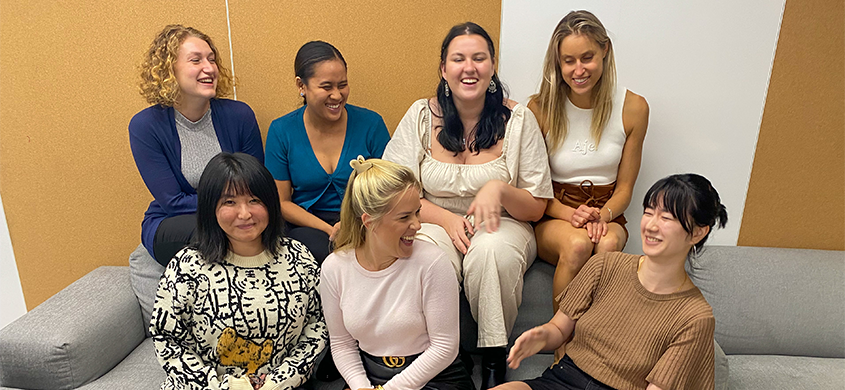 Douugh prides itself as a leading force in the industry, dedicated to highlighting the struggles and stories that many minorities face. In honor of International Women's Day, we wanted to join you in celebrating the marvelous women of Douugh. From Marketing to Product and Data, each woman's story is unique in its own way, championing a set of diverse skills, education, and backgrounds, an environment and team structure that Douugh strives for. We hope you join us in lifting the voices of women today and every other day. Without further ado, meet the women of Douugh:
Abby Bryant, Junior Marketing & Communications Executive
I graduated with a Bachelor of Business from the University of Newcastle in November 2021. Less than a month later, I scored my first 'big girl' job with Douugh. As the little Gen Z newbie, I had very scarce experience except for a marketing internship with a traditional bank, but the team took me under their wing and have helped me grow along the way. When I'm not curating content for team Douugh you can find me curled up on the couch with a Jane Austen novel, the Twilight soundtrack playing in the background, and a cheeky cocktail or two on the table. My biggest financial struggle is saving. I love to live life to the fullest and appreciate the present, so sometimes the thought of the future can slip away from me! But I've learned over time that mindset is everything. As I tell all my friends, everyone is on different paths in life, and constantly comparing your finances to your friends will only make you more stressed out than you need to be. Simply find your balance; however, that may look.
Alice Findori, Data Engineer
In France (my home country), I studied Aeronautical Engineering before specializing in Big Data during my final year. When Covid struck, I was working for Qantas as a Data Engineer and was unfortunately partially stood down for several months. I decided to make the most of this unfortunate situation, so I sought out a role in a completely different field and company structure, which is how I ended up at Douugh. I loved the financial responsibility message, helping people save rather than pushing people to spend in a time when the state of the world was unstable. When I'm not at Douugh I'm most likely at the beach, getting coffee, eating, or all of those things at once (while getting sunburnt). I have to say I can be pretty bad at keeping track of my expenses and tend to overspend on eating or going out. If I had to offer a piece of advice to all the women out there, it would be to take your time. Learn about your different options for being financially healthier, then find what works for you - not whatever the current trend is! Whether it's about stashing small amounts from every pay, investing in stocks, crypto, or even real estate, find what's comfortable and gives you peace of mind. But don't forget to enjoy life too - cause that's what it's all about!
Angie Sheng, Junior Data Scientist
In 2017 I graduated with a Master's in Accounting. I had been working as an accountant for a year and a half when I started to feel the inevitable digital transformation in my industry. Thus, I sought out a new career path in data science to stay relevant in an ever-changing world. I attended a Data Science Bootcamp, won several Data Science Kaggle competitions, and worked as a TA afterward. During this time I participated in a workshop by Douugh CDO Anthony and became highly impressed with Douugh's mission to help everyone live a financially healthier life. When I approached Douugh, I started with a 4-month internship, which led to me joining the team as a full-time Data Scientist. When I'm not at Douugh HQ, you can catch me listening to Jpop and Kpop, reading science fiction, and playing with my little fur-baby - my cat! I was struggling for a long time with budgeting on categorical spending because most traditional banks don't offer flexible categorization and personalized budgeting. My strength, on the other hand, is my impulse control; I rarely ever fall into the trap of impulse buying. My advice to you is to start investing and saving now; it's never too late to get started!
Ara Morales, QA Lead
I have a degree in Computer Engineering and have always been a QA as I love the "supporting and quiet" nature of this job. I love doing magic behind the scenes and keeping lowkey while remaining crucial at the same time. I've worked in tech companies in the Philippines and Singapore, and I love my work and QA. Joining Douugh was the perfect fit for me, as helping people with their money was the icing on the cake! I love buying coffee beans, driving, watching anime, or sleeping in my spare time! I have a unique talent for losing track of my budget and spending a lot on my family. I didn't come from the most comfortable background, so I suppose I want to give them that kind of experience now that I can afford it! My strength is knowing that I want to be rich, and I'll someday get there. Haha! I'm not one to talk, but I love to pass on the idea that there's always a way to financially better yourself. I like to think of it as making the most of an opportunity and the time you have - whether it's investing or investing in your growth. But no matter what your financial goals are, don't forget to live a life that would make you happy! Most of the time, the important things are the things money can't buy. 
Emily Shen, Junior Data Scientist
After I studied Actuarial Studies, I knew I didn't want to pursue a career as an actual actuary. Instead, I found a passion for data science. So I undertook a Bootcamp in 2020 on data science at General Assembly before getting mock interviewed - and then real interviewed - by my current Douugh manager, William So. I had previously worked in banking and finance at CBA, so I was no stranger to the financial world. When I'm not swimming in data at Douugh, you can find me swimming at the pool, playing wordle - yes, it's an addiction at this point - and dreaming about buying a house. The biggest financial struggle I face is impulse purchases. I know a lot of people say that, but I seriously love to treat myself on the spot, though I try not to beat myself up too much, for I am decent at budgeting and tracking holiday expenses. You win some, you lose some, I suppose! My favorite piece of advice to give to people is - to be realistic when you budget. I know we all want to live the life we dream of, but it only hurts you financially if you're not honest when budgeting. Sit on any major purchases for at least 24 hours. Transfer money into your savings as soon as you get paid (out of sight, out of mind), but keep at least $100 in your checking account to avoid overdrawing (I usually keep $500-$1000).
Joanna Grygierczyk, Product Design Lead 
I started my career by studying Design in Visual Communications at UTS, graduating in 2012. Since then, my career organically grew, going from branding to advertising, before I realized I was chasing the wrong dream. I took a risk when I decided to pivot and begin working in an industry where UX/UI design was rewarded for helping make people's lives better. That's what attracted me to Douugh - the ability to be a part of a product evolution, a partner, and a coach for people's financial wellness. When I'm not living it up with team Douugh you can find me working up a sweat in the gym or at the park with my gorgeous fur baby Dash - my puppy husky. I love catching up with friends and talking about all things life - I'm not averse to a cheeky gossip or two either! If I had to pick a financial struggle, I would say having the tenacity to diversify my savings. That being said, my strength is saving, I come from a home where money didn't come easy, so my mentality has always been to save and not be reckless with spending. I always tell everyone to not only put their money away into one savings account but invest it in ETF's which have a bigger return than a savings account. Also, maximize your super self-sacrifice (if it's financially viable); you'll save a lot at tax time! 
Reasmey Tith, Data Analyst
In 2019 I decided to pursue a career in data science, studying a Masters of Data Science and Innovation at UTS. In 2021 I took a course taught by Douughs very own Head of Data Science, Anthony. Later that year, he shared a data analyst job for Douugh through the student network, and on a whim, I decided to apply. It wasn't a new experience for me; I had been working as a risk analyst at a tier 2 bank at the time. A few weeks - and many interviews later, I was lucky enough to become a part of the Douugh family officially! On the rare occasion when I'm not analyzing away for team Douugh, you can find me tearing up the dancefloor or curled up on the couch watching dance videos on youtube. I'm also no stranger to a lovely buffet or two! I definitely know how crazy life can get - sometimes, I feel like I'm constantly on the go - so keeping track of my expenses and remembering all my bills is a struggle I battle regularly. I even keep paper invoices still to try and make sense of it all! I also love to treat myself to the things I love, so spending money on dance classes/events/weekenders/shoes is a significant drain on my bank account! But I've come to live comfortably within my means most of the time - I've learned this the hard way. My experiences have helped make me a better saver and a more conscientious spender. If I had to offer a piece of advice for everyone out there, it would be never to pay full price on non-essential items. I ALWAYS use coupons/codes/cashback when shopping, or I try and wait for a little for sale. I'd have to say Douugh Rewards has been a big help for me!
Sarita Swami, QA Analyst
In 2019, I graduated with a degree in Computer Science. Although I had a lot of professional experience back home in India working as a QA, I've learned a lot during my time here in Australia. I love being a QA because I think of them as the support system of any company. Working with Douugh is the perfect fit for me, as I genuinely believe in our mission to make everyone financially happier and healthier. When I'm not at work, you can find me completing my targeted run or closing my rings, at the gym, or trekking across some remote area. If I had to call out a financial weakness, it would be underestimating my budget and spending more than my monthly target. However, I am on my way to not wasting my money on unimportant things, which is a win! I am very bad at advising anyone for money-saving at least, but I think people should try to spend their money wisely i.e. not on non-essential items. Also, it's never too late to get started with Investing!
Scarlett Evans, Marketing and Communications Manager
After trapesing across the world on an endless adventure for six months, I decided to move to Australia in 2018 and settle down for a bit. I started my career in Australia at the ASX before changing things up and joining the team at Douugh in 2019. As one of the original team members of Douugh, I've seen each leg of our journey and witnessed how truly tremendous the growth of our product has been. Originally from the UK, I studied Event Management at Leeds Metropolitan University (now known as Leeds Beckett University) and graduated in 2012. While studying all things events, I found my passion for Marketing, which I would define as the starting point of my carer. I further fuelled this passion by working for one of the biggest event organizations in the UK - Clarion Events - in the Defence and Security sector, right out of University. When I'm not at work, you'll find me doing anything fitness-based or outside, living my best life. I love the outdoors, seeing new places, and having new experiences. I'm not lying when I say the sun here in Australia makes it all the more enjoyable! I'd say my biggest struggle with my finances would be overspending on useless items instead of saving them for long-term goals. I'm terrible for just getting an Uber instead of public transport! This year i want to get more into investing and cryptocurrency. I'd love to grow my money further instead of having it just sit idly by!