Closing the Gender Investment Gap
Why Investing Is a Women's Issue and how we can change that.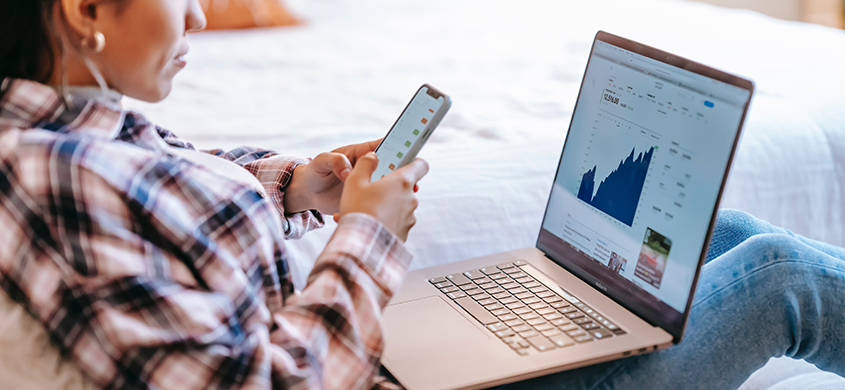 We've all heard about the gender pay gap. On average, in the United States, women earn 82 cents for every full dollar earned by a man. 
But are you aware that there's a gender investment gap as well? 
Only 48% of women are currently invested in the stock market, compared to 66% of men. That's bad news because lower pay puts women at a significant disadvantage when trying to reach their financial goals. 
Not only do women earn less and invest less, they're also more likely to take time off to raise children, plus they tend to retire about 2 years earlier than men, often in order to retire with an older spouse or take care of a sick or elderly family member. Fewer years in the workforce translates to lost Social Security benefits as well as lost income. It's a tiresome cycle. 
Without investing to help make up for the shortfall, financial freedom and equality are even harder to achieve.
The "Confidence Gap" and How It Affects Investing
One of the biggest reasons that women invest less is that they are less confident than men about their ability to invest successfully. Men, on the other hand, are often overconfident in their investment abilities.
The outcome of the confidence gap is that women tend to think they don't have enough financial expertise and that they need to learn more before they start. This can keep them from starting to invest until they're older, thereby missing out on valuable years of investment growth. Worse, it sometimes prevents them from getting started at all.
Let's also not forget that, traditionally, investment decisions have fallen to male partners. That's changing (thank goodness!), but many women have grown up without a female investing role model. That can make it hard to know where to start. 
And even in today's more equitable relationships, the confidence gap means that men are simply more likely to take the reins when it comes to making a family's investment decisions. And women are more likely to let them. Even today, 56% of heterosexual married women leave all or most investment decisions to their husbands. 
Aside from these facts, a key reason for the gender gap when it comes to investing is the pay gap we previously mentioned. To put it plainly - women simply have less money to invest.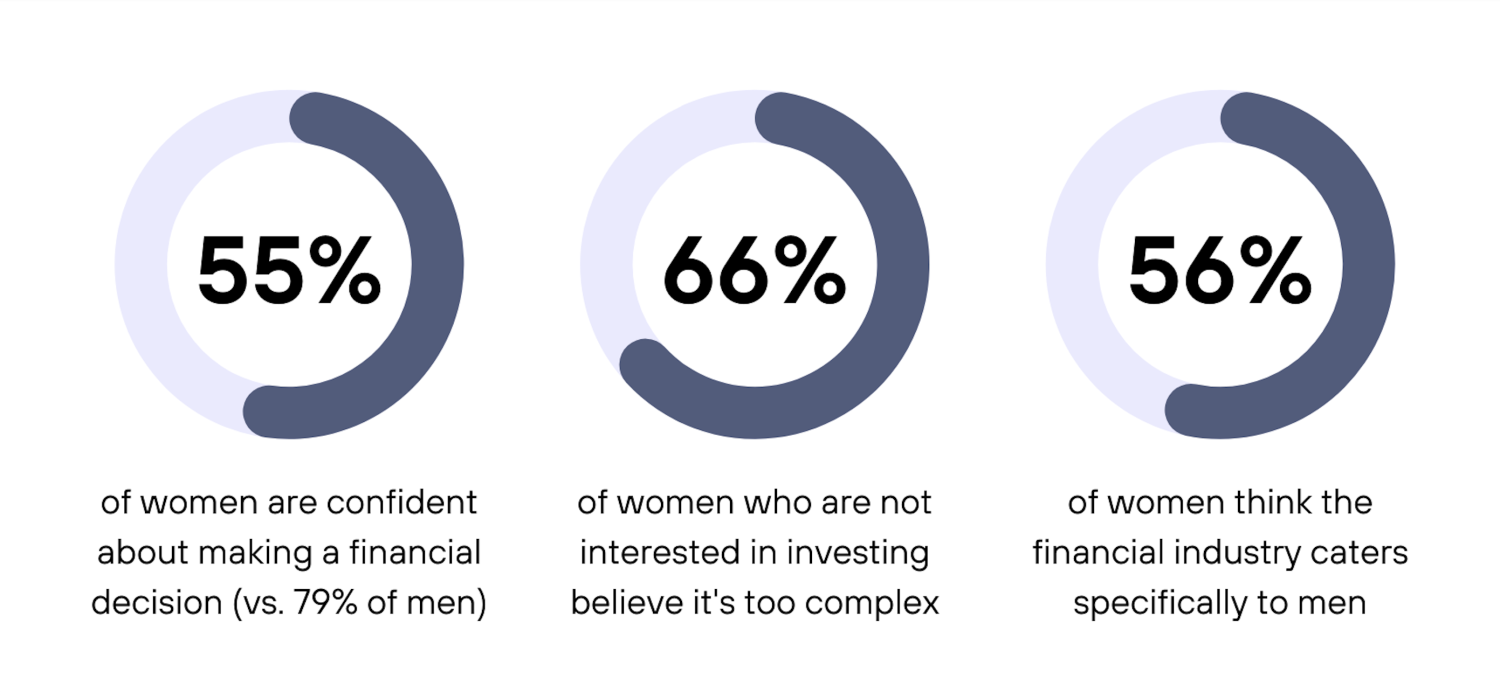 Source: UBS (2018), Own Your Own Worth Report. Retrieved https://bit.ly/3oWhb8p
What Does This Mean for Women's Financial Security?
The long-term consequences of the gender investment gap are serious.
On average, by the time they retire, women have saved $70,000 less than men, and, on average, outlive men by almost 4 years. On top of that, lower pay and fewer years in the workforce mean that women get $4000 a year less in social security benefits than men. 
In other words, women have to make less money last longer, which means they're more likely to end up living out their retirement years in poverty.
But There's Some Good News …
The cautious approach to investing can actually be a huge benefit once they begin. Women's portfolios tend to outperform men's in the long run, in large part because women are more conservative with their money, make less risky decisions and are therefore more likely to protect their money and not lose it. 
They are more likely to take a long-term view of their investments, which translates to fewer trades and lower fees. They're also less likely to take reckless risks with their money, and more likely to ask for help when they need it.
This means the biggest obstacle to women building wealth through investment is simply getting started.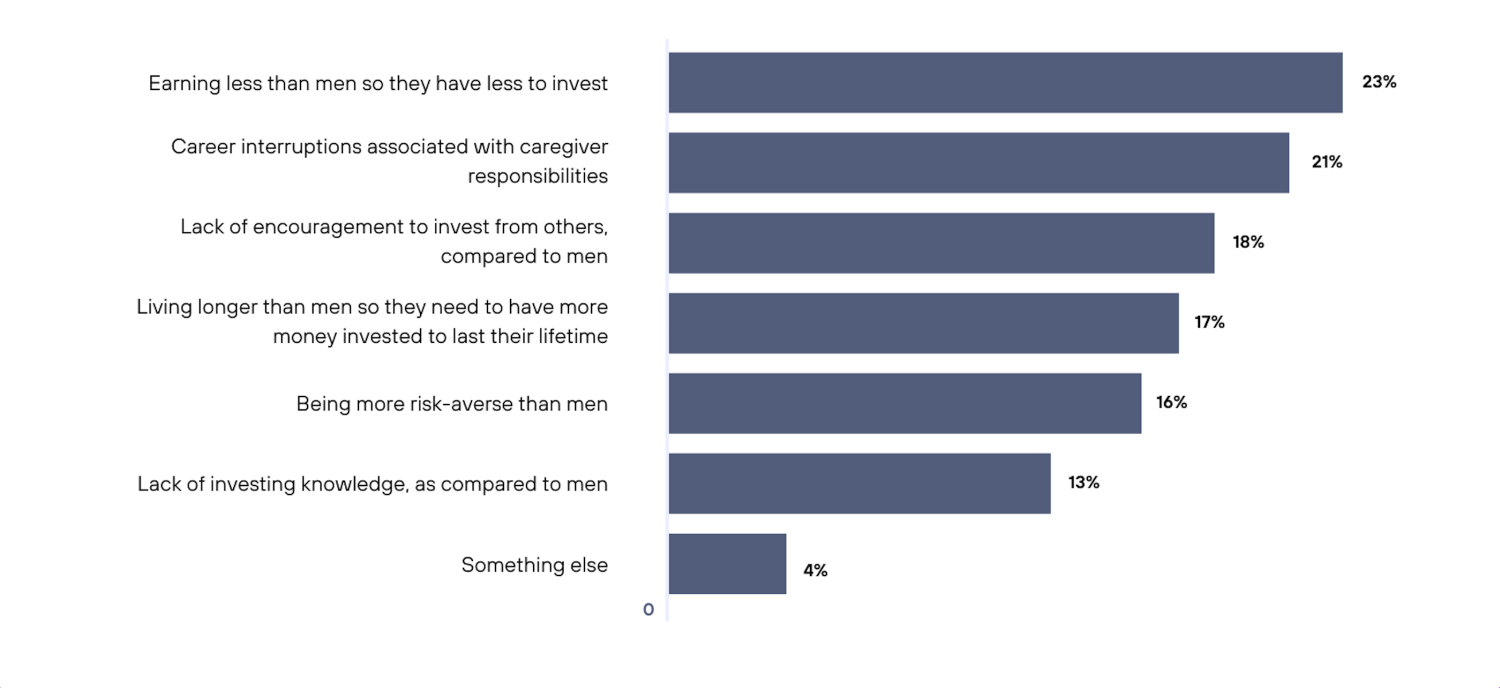 Source: NerdWallet survey conducted online July 26-28, 2021, by The Harris Poll.
Okay … But HOW Should Women Start Investing?
You may remember that we're fans of the set-it-and-forget-it approach around here. And what works for budgeting is true of investing as well. 
You can make a one-time investment, but if you really want to maximize your investment potential, make sure you put away a recurring contribution that goes directly into your investment account. Over time, even a few dollars a month can have a big impact on your net worth and investing a consistent amount over a long period of time helps to minimize risk.
And if you're stuck wondering exactly what to do with your money, we've created a suite of portfolio options that take the guesswork out of investing. You can choose from 6 portfolios ranging from conservative to aggressive—we even have a socially responsible option! 
All you need to do is choose one or more portfolios that match your investment profile. If you're the super-cautious type, you might prefer a conservative portfolio that minimizes risk. If you're a little bolder, a more aggressive portfolio that leans toward higher rewards might be more your style.
Even better? Unlike most investment companies, we don't charge any management fees, meaning you get to keep more of your money.
Then Again, Why Limit Yourself?
If you have multiple financial goals (and who doesn't?), you can create a Portfolio Jar for each one. For example, maybe you'll have a more conservative Portfolio Jar for a near-term goal like buying a car and a more aggressive one for a goal that's still several years off, like buying a house.
The sky's the limit for Portfolio Jar creation, so you can have as many as you need, each personally tailored to a different life goal.
Advisory services provided by Douugh Wealth LLC, an SEC-registered investment adviser. Brokerage services provided to clients of Douugh Wealth LLC by ©DriveWealth, LLC. DriveWealth is a registered broker dealer, member of FINRA and SIPC.
Investments in securities: Not FDIC Insured - No Bank Guarantee - May Lose Value.
All investing involves risk, including the possible loss of money you invest, and past performance does not guarantee future performance. Before investing, consider your investment objectives and Douugh Wealth's charges and expenses. Douugh Wealth's internet-based advisory services are designed to assist clients in achieving discrete financial goals. They are not intended to provide comprehensive tax advice or financial planning with respect to every aspect of a client's financial situation and do not incorporate specific investments that clients hold elsewhere. For more details, see our Wrap Fee Program Brochure and Form CRS. Not an offer, solicitation of an offer, or advice to buy or sell securities in jurisdictions where Douugh Wealth, LLC is not registered.