Building a banking super app
We've built a banking superapp to help everyday people.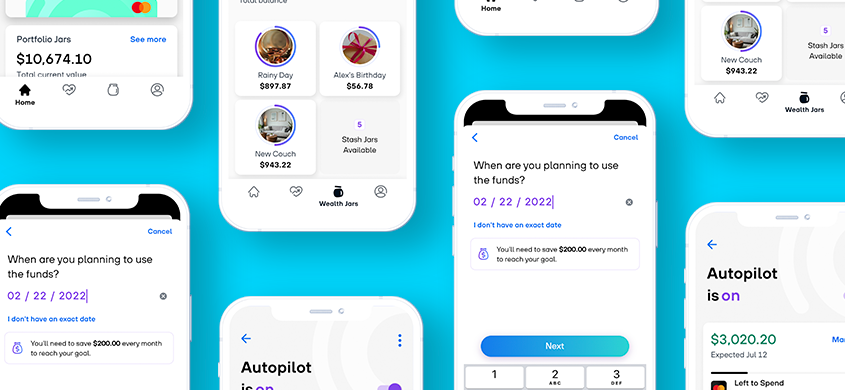 Over the past year, Douugh has had unprecedented growth - and we're still on track for bigger and better things! No matter how much we evolve, we're still staying true to our purpose. Douugh is designed to help the everyday person budget, save and invest on Autopilot, offering a personalized banking super app to help them live financially healthier.
The traditional financial system has failed the everyday customer, costing them $300-$400 on average in fees per year compared to Douugh members. With structurally high fees, low accessibility, and poor customer service, these archaic structures offer members a mediocre experience at best, providing a great opportunity for Douugh.
Who we strive to help
Did you know that over 160 million Americans (47% of the population) struggle to afford a $400 emergency expense without going into debt? It may seem a little far-fetched for some, but in truth, the recent years and the state of the world has had detrimental effects on many people's finances. We've readjusted our purpose to champion these people towards financial wellbeing, and have grouped them into the following 3 categories: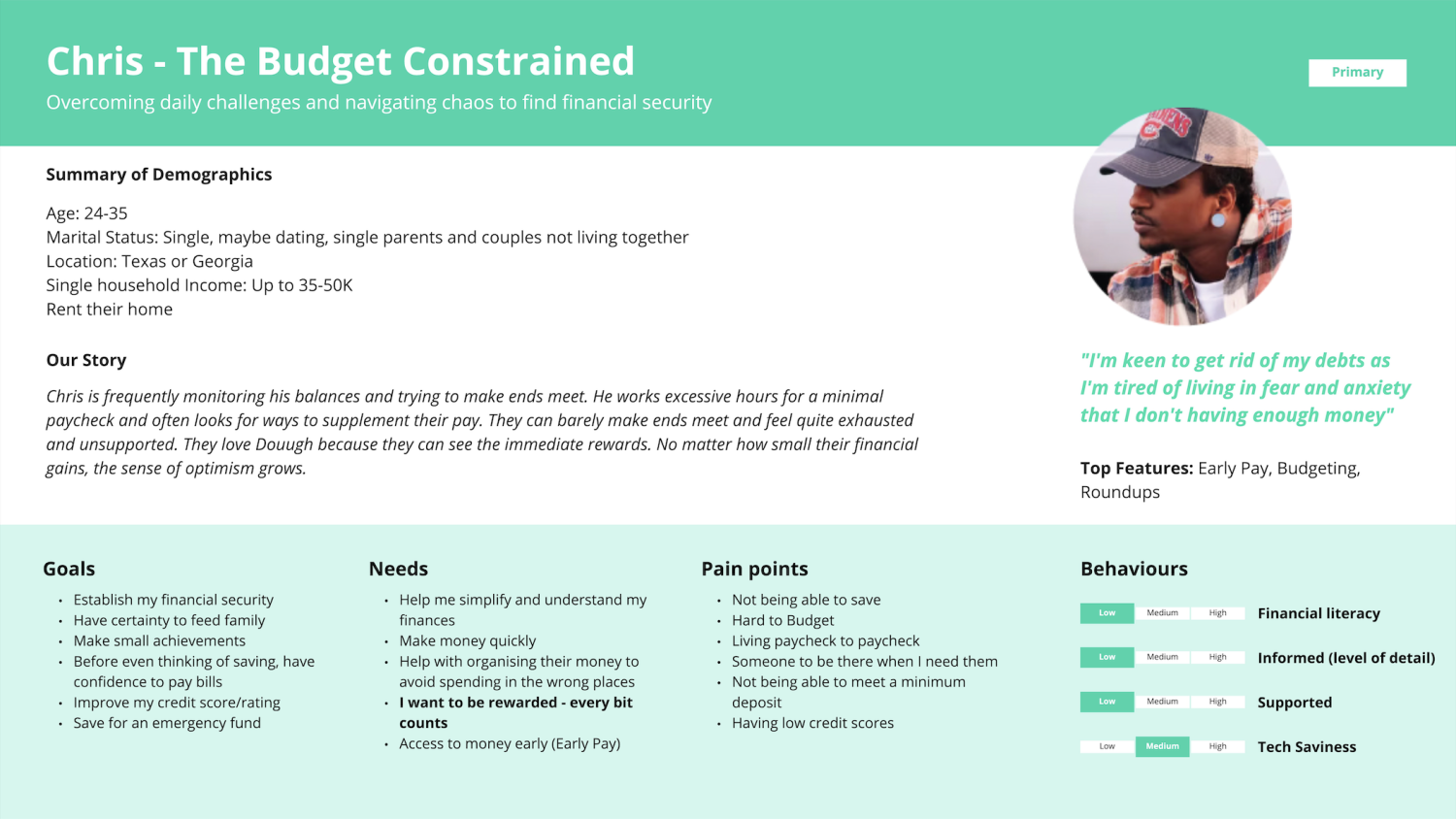 The Budget Constrained
The main challenge for this consumer group is the daily struggle of navigating chaos to find financial security. They're frequently monitoring their balances and trying to make ends meet, working excessive hours for a minimal paycheck. Constantly having to find ways to make ends meet feels quite exhausting, leaving them often feeling unsupported. The budget-constrained have told us they love Douugh because they can see immediate rewards, as no matter how small their financial gains are, the sense of optimism grows.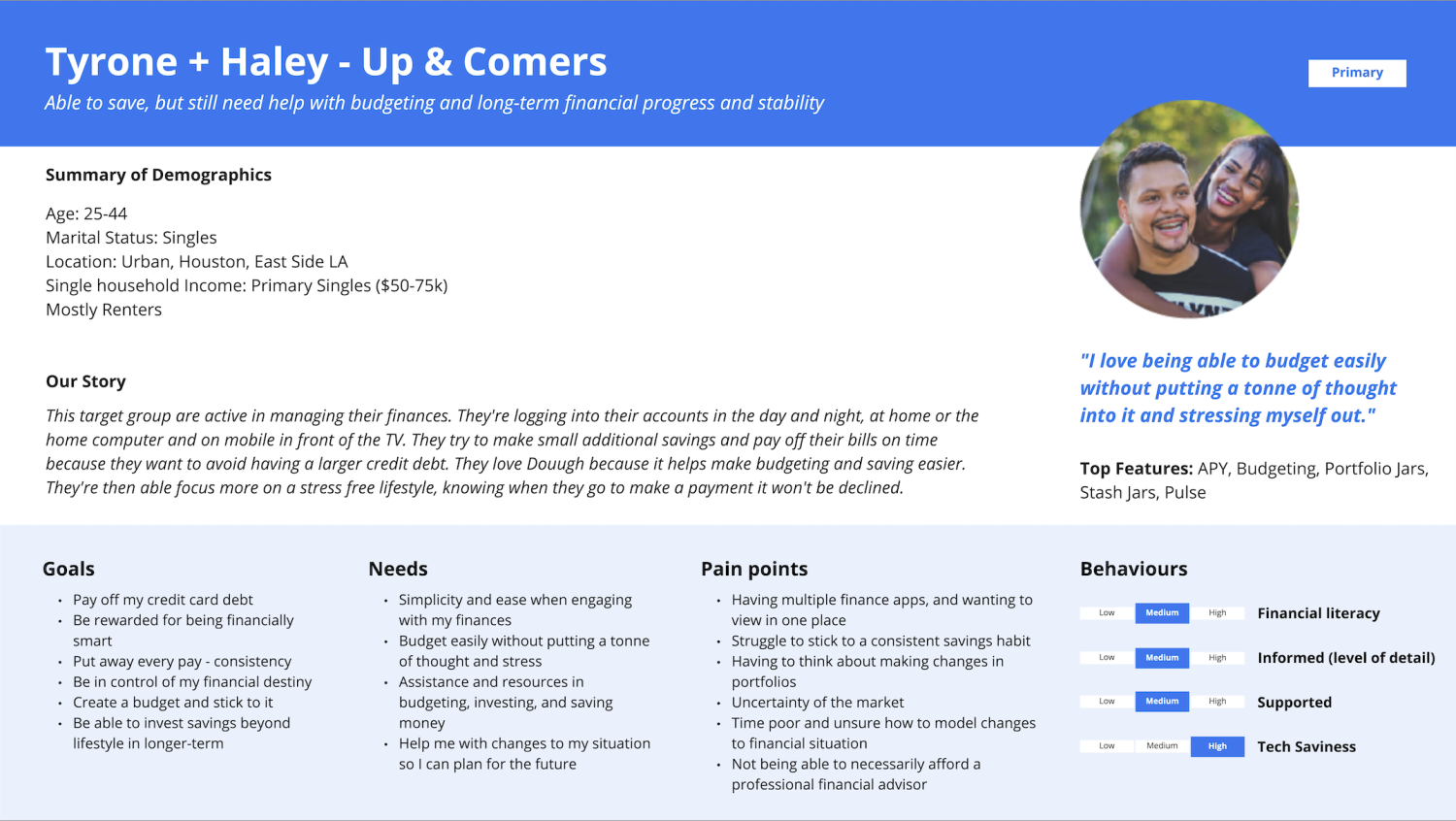 Up & Comers
We know this consumer group loves to save, but still needs help with budgeting and staying on track for long-term financial progress and stability. They're active in managing their finances, logging into their accounts day and night - anywhere and everywhere. They try to make small additional savings and pay off their bills on time to avoid having larger credit debt. Douugh is loved by them as it helps make budgeting and saving a breeze, leaving more time for a stress-free lifestyle, as they know their payments won't be declined.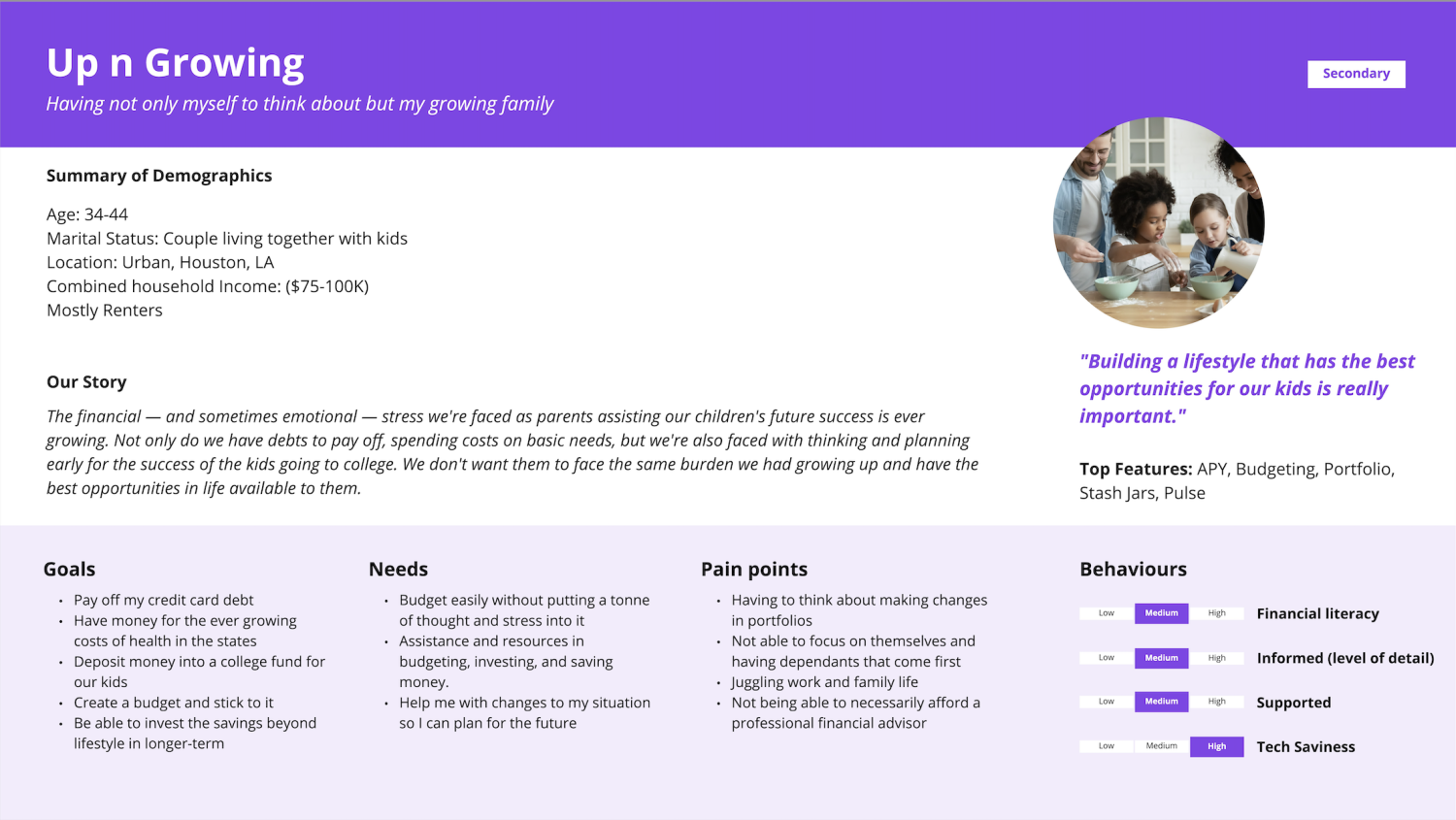 Up n' Growing
This consumer group doesn't just have themselves to think about, but rather have to factor in their growing family in all financial decisions. They face both emotional and financial stress as a parent. Trying to assist their children's future success they must balance being a full-time parent with paying off debt, basic costs, and college savings. Douugh is the lifeline that helps them find peace, keeping one eye on all their finances, whilst thinking of the present and future.
What's been happening recently
To better support these members, we recently launched Early Pay - a new bank account feature that allows members to receive their paycheck up to 2 days earlier1 than offered by traditional banks. Early Pay helps Douugh members to stay on top of their budgeting. By providing employees early access to their pay, we help our members avoid high cost Payday Lenders, late charges, and bank overdraft fees - which alone total about $35 billion annually in the United States. This feature has been a critical pillar to delivering substantial growth to leading market players such as Chime, Current and Dave - who between them have 17m2 members with a combined market capitalization of $35b2, having raised in excess of $2b2 to scale up their operations. Chime, the leading market player, has proven that through interchange and ATM fees alone at scale, the business model is sustainable. 
Douugh's Autopilot feature in the US also reached its own milestone, having now processed over $3.1m in automated sweeps to cover people's bills and contribute to savings and investing goals since its launch last year.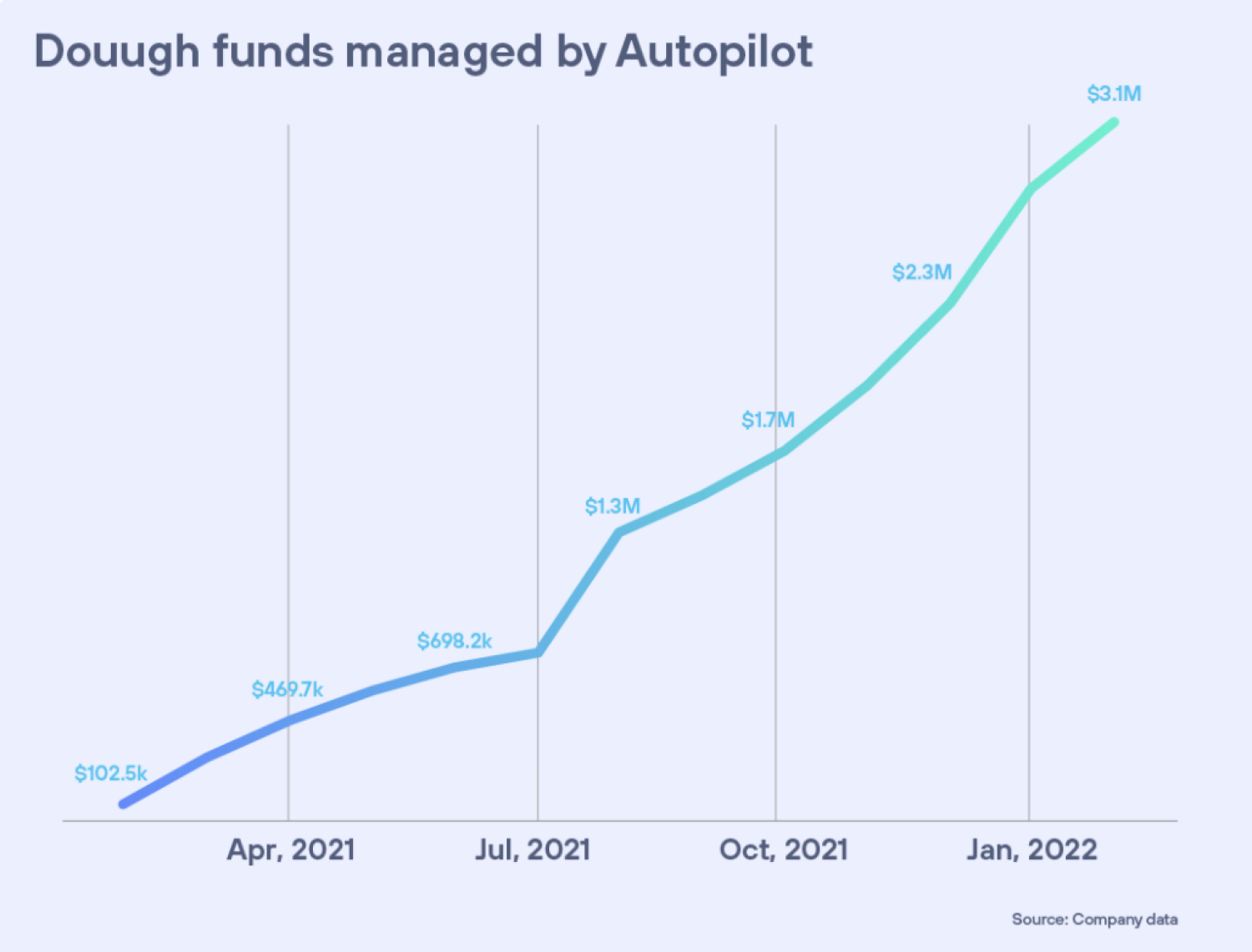 Douugh introduced a major upgrade in January, widening the amount of acceptable deposit funding sources, to lower the barrier to entry. Members can now use Venmo, Cash App, Zelle, and Open Banking connected accounts (ACH pull), rather than having to rely solely on paying in their salary. This makes it easier for members to test drive the feature prior to committing bigger deposits. 
These feature releases have been supported of course by the expansion of the affiliate revenue received from our over 30,000 merchant partners, providing cashback and coupon offers to members through the Douugh Rewards Google Chrome extension.
The next steps
We've got many things on the horizon for Douugh. The two we're most excited about are the introduction of a Cryptocurrency trading spread and an expansion into the Australian market. 
The Douugh Australia project is well underway with partnerships with Railsbank and Volt. We're targeting a closed beta launch in early Q4, followed by a full market launch later in the year (subject to final bank approvals and the raising of additional growth capital). 
We're also continuing to make light touch updates to the Goodments by Douugh App, in preparation for its migration into the Douugh App prior to its full market launch. This will see the reintroduction of sustainability features, a key driver of Goodment's early success. However, Goodments will remain focused on US stock trading, with ASX share trading capabilities being added into the Douugh App down the line.
Commenting on the Company's progress, Douugh's Founder and CEO Andy Taylor said:
"Our core strategy remains, to build out a banking super app over the long-term that incorporates key banking, credit, stock trading, and crypto features to enable Douugh to deliver on its mission of helping members manage and grow their money to live financially healthier lives - bridging the world of centralized and decentralized finance in a way that traditional banks are incapable of doing, without destroying their legacy business model."

"Whilst investors should be encouraged by our progress to date, we are constantly striving toward building a high revenue, profitable business model. Following our first full quarter of marketing since the launch of our subscription and investing product, we have been carefully analyzing member behaviors and feedback, as well as commissioning our first piece of external quantitative research in December, which has uncovered some important insights." 

"We initially set out to appeal to the HENRY (Higher Earning, Not Rich Yet) segment of the market, estimated to be ~28m in the US alone. Whilst this user base has asked for better assistance around money management, our research shows that their core driver for switching has shifted to having access to integrated Stock and Crypto trading functionality, which we are working to deliver on in the future."

"However, we now have a clearer insight that our current proposition is resonating well with the mass-market segment of 160m Americans who are living paycheck to paycheck, earning between $25k-$75k a year."

"We're excited to tilt our focus to these consumers as a means to unlock rapid growth. Adding Early Pay puts us in a strong position to win this core segment of users, having them commit their paycheck and accelerate member-get-member growth."

"This means moving away from top-line member acquisition in favor of a balanced approach to growth, focussing on delivering a step-change in activation of members, scaling up our member-get-member program and revenue."
Whether you are a long-time follower of Douugh, or are brand spanking new, we're so excited to have you onboard for the future to come. We hope you're excited as we are to step into the next stage of our evolution and reap all the benefits.
1  Faster access to funds is based on comparison of traditional banking policies and deposit of paper checks from employers and government agencies versus deposits made electronically. Direct deposit and earlier availability of funds is subject to payer's support of the feature and timing of payer's funding. You'll be automatically enrolled into Early Pay after your first successful Direct Deposit into your Douugh Spending Jar.