Douugh Spotlight: Tom Culver
Head of Douugh Wealth, Tom Culver knows his way around our Wealth Jars.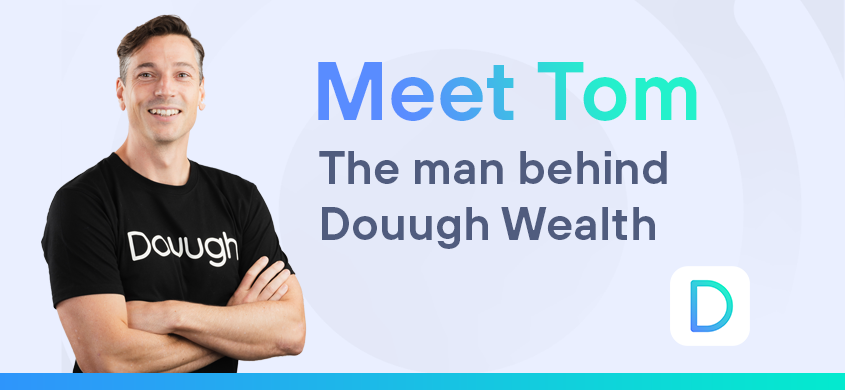 As you may have seen, we launched our entrance into Wealth Management. If you haven't checked it out already, jump in the app and take a look at our new Wealth Jars - your new home for Stashing or Growing your money!
Starting with Portfolio Jars, we now offer our members the potential to grow their money to help reach their goals through smart, diversified investment portfolios. Managed by our team of professionals and run by our new subsidiary, Douugh Wealth. We're making investing effortless - so you can rest easy knowing we're helping you reach your goals, and you can keep doing what you were doing (Netflix).
We sat down with Tom Culver, Douugh's Global Head of Wealth. To find out a bit about him and why we've built Portfolio Jars.
So who is Tom Culver?
Originally hailing from London, England, Tom is a father, husband, surfer, sustainability advocate, and a sampler of craft beers!
Professionally, Tom is our Global Head of Wealth at Douugh. He's a seasoned financial services specialist with over 20 years of experience, an experienced startup founder (establishing multiple fintech businesses), and a champion of the responsible investing space.
Tom joined Douugh at the start of 2021 and has been working hard to bring Douugh Wealth to life and cement a critical pillar within Douugh's product offering.
What are Tom's thoughts on banking today?
"After so long in the industry I'm increasingly frustrated that large portions of our society still feel excluded from banking and finance. I fundamentally believe that everyone, no matter their background or experience deserves to be financially secure" says Tom. Tom believes a key component of making this happen is changing the game of investing by democratizing sophisticated investing solutions, focussing on making them accessible, personal, and relevant for the next generations. We couldn't agree more, Tom!
What does Tom believe when it comes to investing?
"I share what I think is the same belief as many of our customers, that the influence of rapid technological innovation and sustainability factors combined with the threat system failures, whether they be financial, ecological, health-related or other, will have the greatest impact on this generation's ability to get ahead financially. With that in mind, we wanted to design an investing solution that looks at building wealth a little differently".
What's Douugh Wealth and why's it different?
With Douugh our investment options are fully integrated into the banking app. "We've also put your collection of financial goals at the center of the investment strategy. This means our customers can invest their long-term wealth in a low-cost, diversified portfolio based on their individual risk appetite that's right for them and their goal". Tom highlights, all this added value comes with no extra cost and can be managed alongside all our customer's other finances and goals. "It really is a true solution to help you Save, Spend and Invest - all in the one app".
"Importantly we know that investing can be hard, time-consuming, expensive, and even sometimes scary. So we want to give our customers the opportunity to grow their money, achieve their goals and improve their overall financial health". Says Tom
"We've solved this by creating an investment solution that combines human expertise and state-of-the-art technology making sure a customer's investment will always work hard towards their goals so they can stay on track through the good times and the inevitable bad times".
An important aspect Tom stresses with Douugh is "when it comes to how we invest money, we focus on investing in transformative companies that positively impact our environment and disrupt large segments of the economy through innovation. Our portfolios are balanced and well-diversified, tilted to companies like Tesla, Square, Coinbase, Netflix, Beyond Meat, and First Solar."
Final thoughts from Tom.
"I'm really excited about what we've built for our customers. It's accessible, simple yet sophisticated, fully integrated, and focuses on the future. Spending, saving, and investing with Douugh is a really great opportunity to build wealth and get financially healthy, whoever you are".
Now you've met Tom and heard all about how you can now invest your money with Douugh - we hope you're as excited as we are.
Check out Investment Portfolios today in the Douugh app or if you're not yet a member, download Douugh and sign up today to start living financially healthier and reach your goals.
Thanks again, Tom!
Advisory services provided by Douugh Wealth LLC, an SEC-registered investment adviser. Brokerage services provided to clients of Douugh Wealth LLC by ©DriveWealth, LLC. DriveWealth is a registered broker dealer, member of FINRA and SIPC.
Investments in securities: Not FDIC Insured - No Bank Guarantee - May Lose Value.
All investing involves risk, including the possible loss of money you invest, and past performance does not guarantee future performance. Before investing, consider your investment objectives and Douugh Wealth's charges and expenses. Douugh Wealth's internet-based advisory services are designed to assist clients in achieving discrete financial goals. They are not intended to provide comprehensive tax advice or financial planning with respect to every aspect of a client's financial situation and do not incorporate specific investments that clients hold elsewhere. For more details, see our Wrap Fee Program Brochure and Form CRS. Not an offer, solicitation of an offer, or advice to buy or sell securities in jurisdictions where Douugh Wealth, LLC is not registered.