Douugh Wealth Investment Outlook - Edition One
A look at investments for the next quarter.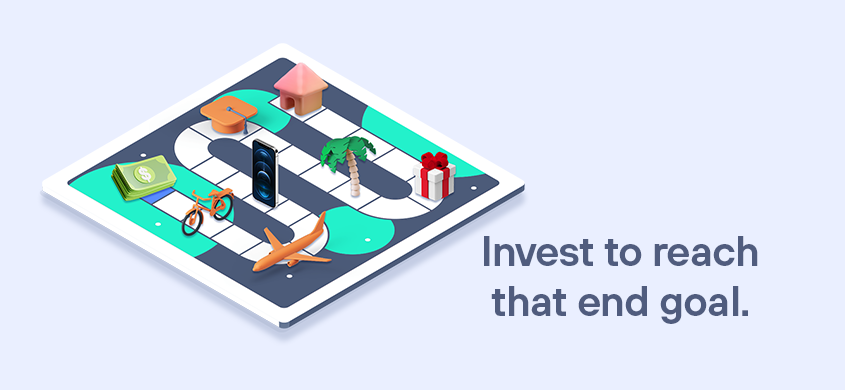 Welcome to Douugh's new Wealth Investment Outlook, a quarterly probe of key topics in the world of investing. We're always working to bring you the latest information, trends and relevant updates to help keep your money working for you.
In this edition, Douugh Wealth's investment team takes a look into some key drivers which are influencing longer-term trends that shape our economy, society, and ultimately our investment decisions. To help you understand market dynamics and how they may affect your financial goals we are focussing on the impact of two key drivers, COVID-19, and inflation on Megatrends.
These Megatrends can be seen in virtually all aspects of our lives - the way we work, our health, how we learn about the world, travel and holidays, how companies operate, what we buy, and how it's delivered to us. 
Currently, our investment process focuses on four particular megatrends which we incorporate into our portfolios; Financial Technology, Artificial Intelligence (AI) & Robotics, BioTechnology, and Sustainability1.
COVID-19 Pandemic Accelerates MegaTrends
COVID-19 has served as a tipping point in the acceleration in the adoption of services that support these megatrends in a number of ways.
Adoption of digital payments to support on Ecommerce, neobanks and utilize mobile wallets,

Remote work, automated processes, and shift to a fully digital enterprise

Place a renewed focus and investment on accelerating the search for "smart drugs" that incorporate molecular diagnostics and mRNA technology

Highlight the need for bold and deliberate sustainability commitments
Currently, the challenges initially presented by COVID-19 have now turned into long-term strategic business opportunities for companies, rather than a temporary problem.
COVID-19 has currently resulted in the acceleration of these megatrends' adoption, strengthening our theory. We'll continue to maintain an allocation to these robust trends with a specific focus on the following key areas:
Exponential growth of the adoption of digital wallets and a shift to a fully cashless society

Commitment of companies to a permanent remote workforce

Restructuring of drug pipeline to increase speed to market and ROI

Renewed Sustainability Value Commitments by companies demonstrates how products impact the greater good not just their bottom line
Rising Inflation
Inflation is defined as a steady and sustained increase in the prices of goods and services. Simply put, inflation means that your money will not be able to purchase as many goods and services today as it could yesterday. It also means your savings and investments grow at a slower rate, or not at all, in 'real terms'2.
Currently, there has not been an inflationary surge in the United States for over three decades, but recently, inflation indicators have been alerting investors to potentially higher rates of inflation. Last time, inflation had damaging economic impacts mainly: regressive income distribution, increased cost of borrowing, and business environment uncertainty.
There are two key ways to measure inflation. The Consumer Price Index (CPI) of the total value of goods and services consumers have bought over a specified period, while the Producer Price Index (PPI) is a measure of inflation from the perspective of producers. Both the CPI and PPI measures are signaling that inflationary pressures are likely to increase or at least persist. This suggests that the 'real returns' of stocks will be below their historic average of 10%3.
We think that the probability of higher future inflation is likely to occur.
To help you protect your portfolios against the impacts of accelerating inflation we currently continue to allocate investments to Treasury Inflation Protected Securities (TIPS). Historically, TIPS has performed well during inflationary periods. We currently use the Vanguard Short-Term Inflation-Protected Securities ETF (VTIP) for this allocation. Our portfolios may also incorporate exposure to Real Estate Investment Trusts, Gold, and alternative assets, such as Crypto. These asset classes have the potential to generate positive real returns during inflationary periods.
Portfolio Allocation
At Douugh Wealth, our investment team utilizes a quantitative tactical asset allocation strategy to determine the appropriate mix of assets in your portfolio.
Our approach involves establishing a baseline mix of assets and then actively adjusting the weightings of each asset class based on market cycles and valuations. Currently, our portfolios have the following characteristics:
Notable allocation to large-cap U.S. technology stocks

Specific allocation to Treasury Inflation Protected Securities

Limited allocation to Developed International stocks and no allocation to emerging market stocks
The goal of our tactical allocation strategy is to generate superior risk-adjusted returns while mitigating risk as much as possible. We continue to monitor market trends and portfolio holdings in your account.
References:
Financial Technology (FinTech): Seeks to provide exposure to innovation and technological disruption in the financial services industry.

Value that has been adjusted to take into account the effects of inflation.

Historical return figures are based on data compiled from the Center for Research in Securities Prices (CRSP) - https://www.crsp.org/products/research-products/crsp-us-stock-databases
Terminology
Artificial Intelligence & Robotics: Aims to provide exposure to companies that may benefit from the adoption and/or utilization of artificial intelligence and robotics.

Biotechnology: Seeks to provide exposure to companies involved in cutting-edge medical technology such as DNA sequencing, mRNA vaccines, and molecular diagnostics.

Sustainability: Aims to provide exposure to companies that emphasize a commitment to environmental and socially responsible efforts, such as clean energy, gender equality, and clean water.

Treasury Inflation-Protected Securities (TIPS) are a form of United States Treasury Bond designed to help investors protect against the negative impacts of inflation by contractually linking the bonds' principal to the CPI.
Advisory services provided by Douugh Wealth LLC, an SEC-registered investment adviser. Brokerage services provided to clients of Douugh Wealth LLC by ©DriveWealth, LLC. DriveWealth is a registered broker dealer, member of FINRA and SIPC.
Investments in securities: Not FDIC Insured - No Bank Guarantee - May Lose Value.
All investing involves risk, including the possible loss of money you invest, and past performance does not guarantee future performance. Before investing, consider your investment objectives and Douugh Wealth's charges and expenses. Douugh Wealth's internet-based advisory services are designed to assist clients in achieving discrete financial goals. They are not intended to provide comprehensive tax advice or financial planning with respect to every aspect of a client's financial situation and do not incorporate specific investments that clients hold elsewhere. For more details, see our Wrap Fee Program Brochure and Form CRS. Not an offer, solicitation of an offer, or advice to buy or sell securities in jurisdictions where Douugh Wealth, LLC is not registered.