Douugh Wealth Investment Outlook - Edition Two
A review of key topics and strategies that influence how we invest.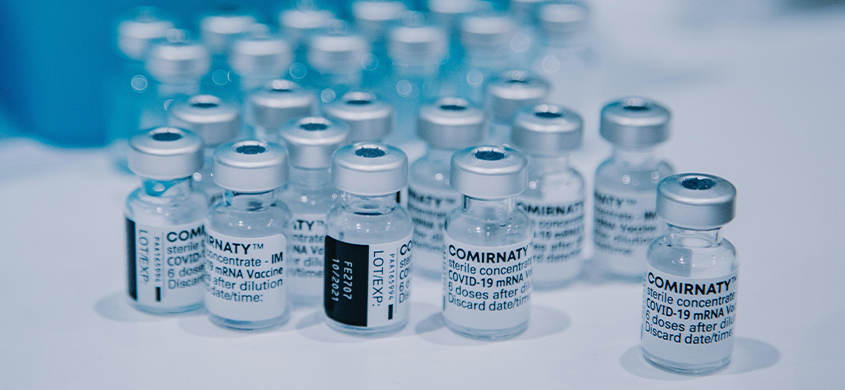 Welcome to Douugh's Investment Outlook, our quarterly probe of key topics that influence our approach to investing. 
Our investment process focuses on constructing diversified portfolios currently incorporating exposure to four critical megatrends; Financial Technology, Artificial Intelligence (AI) & Robotics, BioTechnology, and Sustainability.
In this edition, Douugh Wealth's investment team provides an outlook on the inflationary landscape and the potential opportunities in the biotechnology space.
Persistent, Not Transitory Inflation
The Federal Reserve has been sticking to its characterization of 2021's higher inflation as a "transitory" issue. However, after six months of price increases, the Federal Reserve has adjusted its tune, which now aligns with the viewpoint that we have maintained since inception.
Both Fed Chairman Jerome Powell and Treasury Secretary Janet Yellen said in interviews that it is time to retire the term "transitory" when discussing the current U.S. inflation trends. The retirement of the term "transitory" suggests that the Federal Reserve thinks inflation will not subside in the near to medium term.
We have maintained that higher inflation would be persistent rather than transitory and the continual sharp upside inflation "surprises" over the past six months has increased the probability that our inflation thesis is correct. It's increasingly clear that Inflationary pressures are unlikely to subside quickly meaning that the U.S. will likely experience a prolonged inflationary environment.
With this, history suggests that long-term value investments, those future-focused investments that we support across Financial Technology, Artificial Intelligence (AI) & Robotics, BioTechnology, and Sustainability, may be subject to pressure. This is because large old-school institutional investors will commonly move out of these investments, back to more "traditional" investments during times of uncertainty. As ardent believers in the long-term future value of these key sectors, our approach is to maintain exposure to these areas and to increase the tilt towards these themes should the opportunity present itself.
Additionally, to help you protect your portfolios against the impacts of accelerating inflation, we continue to allocate investments to Treasury Inflation-Protected Securities (TIPS)1. Historically, TIPS has performed well during inflationary periods. We currently use the Vanguard Short-Term Inflation-Protected Securities ETF (VTIP) for this allocation. Our portfolios may also incorporate exposure to Real Estate Investment Trusts, Gold, and alternative assets, such as Crypto. 
As part of providing managed, balanced portfolios, we look to protective investments,  as these asset classes have the potential to generate positive real returns during inflationary periods. They also offer the opportunity to protect your capital, meaning that should the opportunity arise to take advantage of the effects of inflationary pressures, you are positioned to do so.
Biotech To the Rescue
The first confirmed cases of the Omicron variant coupled with the recent spike in COVID cases rattled global stock markets earlier this month and placed a renewed focus on the importance of COVID boosters.
There is substantial medical evidence that demonstrates the reduced effectiveness of COVID vaccines over time.  For example, back in July, Pfizer–BioNTech published data showing that their vaccine's efficacy against symptomatic disease slipped from 96% to 84% after six months. However, a clinical study showed that booster shots restored immunity to 95.6% for individuals who had received the two-dose vaccine2. 
In our view, the market for booster vaccines is currently underappreciated by the market and is likely to expand. For example, political endorsements and regulatory approval for boosters are already in full swing in the U.S. and Europe. Earlier this month, both the Center for Disease Control and the European Center for Disease Prevention and Control recommended that all adults should receive booster shots. In addition, about two-thirds of U.S. adults plan on receiving a booster dose regardless of political or regulatory endorsements. 
This data suggests there is likely a larger market for COVID vaccine boosters than previously anticipated by the market. 
To help your portfolio take advantage of the projected COVID booster market we continue to maintain an allocation to Biotechnology companies.  We currently use the iShares Biotechnology ETF (IBB) to provide exposure to innovative medical companies. 
Portfolio Allocation
At Douugh Wealth, our investment team utilizes a quantitative tactical asset allocation strategy to determine the appropriate mix of investment types for each of our portfolios. 
This approach involves establishing a baseline mix of investments across asset classes and then actively adjusting the weightings of each asset class based on market cycles and valuations. 
Currently, our portfolios have the following characteristics:
Continued allocation to biotechnology stocks

Specific allocation to Treasury Inflation-Protected Securities

Limited allocation to Developed International stocks and no allocation to emerging market stocks
Ultimately the goal of our tactical allocation strategy is to generate superior risk-adjusted returns while mitigating risk as much as possible. We continue to monitor market trends and portfolio holdings in your account.
Practically this means that we make decisions to provide you with a balanced, diversified portfolio and avoid areas that we do not have confidence in. An example of this is to avoid international investments in countries such as China where there is significant pressure to slow the retraction of the economy, to stave off a housing market collapse and the increasing potential of recession. 
Source: Kaiser Family Foundation, KFF COVID-19 Vaccine Monitor, October 2021.
Advisory services provided by Douugh Wealth LLC, an SEC-registered investment adviser. Brokerage services provided to clients of Douugh Wealth LLC by ©DriveWealth, LLC. DriveWealth is a registered broker dealer, member of FINRA and SIPC.
Investments in securities: Not FDIC Insured - No Bank Guarantee - May Lose Value.
All investing involves risk, including the possible loss of money you invest, and past performance does not guarantee future performance. Before investing, consider your investment objectives and Douugh Wealth's charges and expenses. Douugh Wealth's internet-based advisory services are designed to assist clients in achieving discrete financial goals. They are not intended to provide comprehensive tax advice or financial planning with respect to every aspect of a client's financial situation and do not incorporate specific investments that clients hold elsewhere. For more details, see our Wrap Fee Program Brochure and Form CRS. Not an offer, solicitation of an offer, or advice to buy or sell securities in jurisdictions where Douugh Wealth, LLC is not registered.