Douugh virtual card
Add your virtual card to your digital wallet in seconds and spend instantly.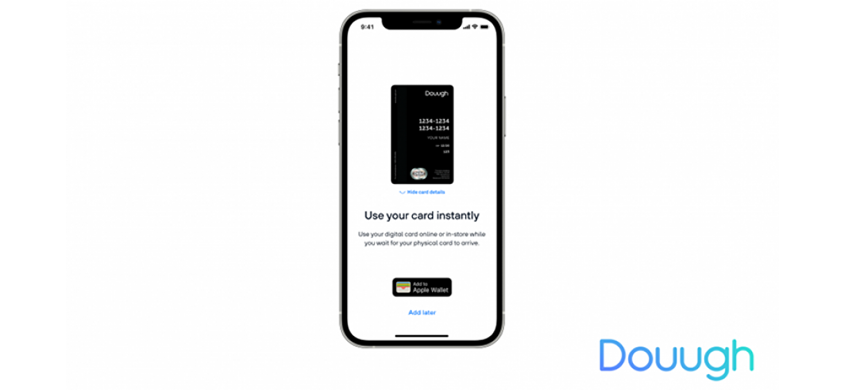 Waiting for your card to arrive in the mail can be frustrating, especially if you've just signed up and want to get started or have misplaced your card. No one wants to wait days for their card to arrive.
Our Douugh Checking debit card is now easier to access as a virtual card in the app and you can now add it to your digital wallet from a single tap. We've given you the ability to start using your card right away, eliminating any wait for your physical card.
Now you can spend online and in-store faster and start experiencing the benefits of Douugh from day 1.
What it means to you
Get set up faster

Instant virtual card to start spending online

Add to Apple Wallet to start spending in-store

Fast, private, and secure

A touch-free payment method that aligns with current needs and health concerns

Convenience and simplicity
Add to Apple wallet directly from the app
Simple and easy to set up, open "More" in the Douugh app and click on Card Management, and Add to Apple Wallet. Done, now you can start spending.
Viewing your Virtual Card
The Douugh Checking virtual card allows us to give you more flexibility, peace of mind, and reliability. You can view your card details directly in the app to use to buy online before your physical card arrives. Easily view your virtual card in 'Card Management' and tap 'Reveal card details'!
We love to hear your feedback, we really do - if you've got an idea or suggestions or general feedback, head over to our Douugh Community and let us know.