Unless you've been hiding under a rock, which could be very possible at this point, then you would have heard that US Congress and President Donald Trump has recently passed a $2.2 trillion stimulus package to help those fighting the devastating spread of COVID-19.
The Coronavirus Aid, Relief, and Economic Security (CARES) Act is a massive financial injection into a struggling economy with provisions aimed at helping American workers, small businesses, and industries fighting with the economic disruption.
This new stimulus package, shockingly, is more than double the size of the $800 billion package that was passed in 2009 to ease the Great Recession. This has made it the largest stimulus package in modern history.
So what do you need to know about the bill, and what does it mean for you.
What's in the CARES Act?
A centerpiece of the stimulus package is that it will provide direct financial assistance to Americans in the form of a check or direct bank deposit. The amount will be based on your gross income.
However, there are income limits. Individuals who earn $75,000 in adjusted gross income or less would get direct payments of $1,200 each, with married couples earning up to $150,000 receiving $2,400 and an additional $500 per each child. This money can be used towards groceries, household supplies, rent — whatever you need.
For every $100 earned above those limits, though, the payment drops by $5. That means if you have no kids and earn more than $99,000 for singles and $198,000 for joint filers, you will not be eligible to receive a stimulus check. Use a stimulus check calculator to see how much you can expect to receive!
In addition, the bill will provide billions of dollars in aid to hard-hit hospitals struggling to deal with the outbreak as well for state and local governments that are cash-strapped due to their response to coronavirus.
Broadly speaking, there are five components to the COVID-19 stimulus bill: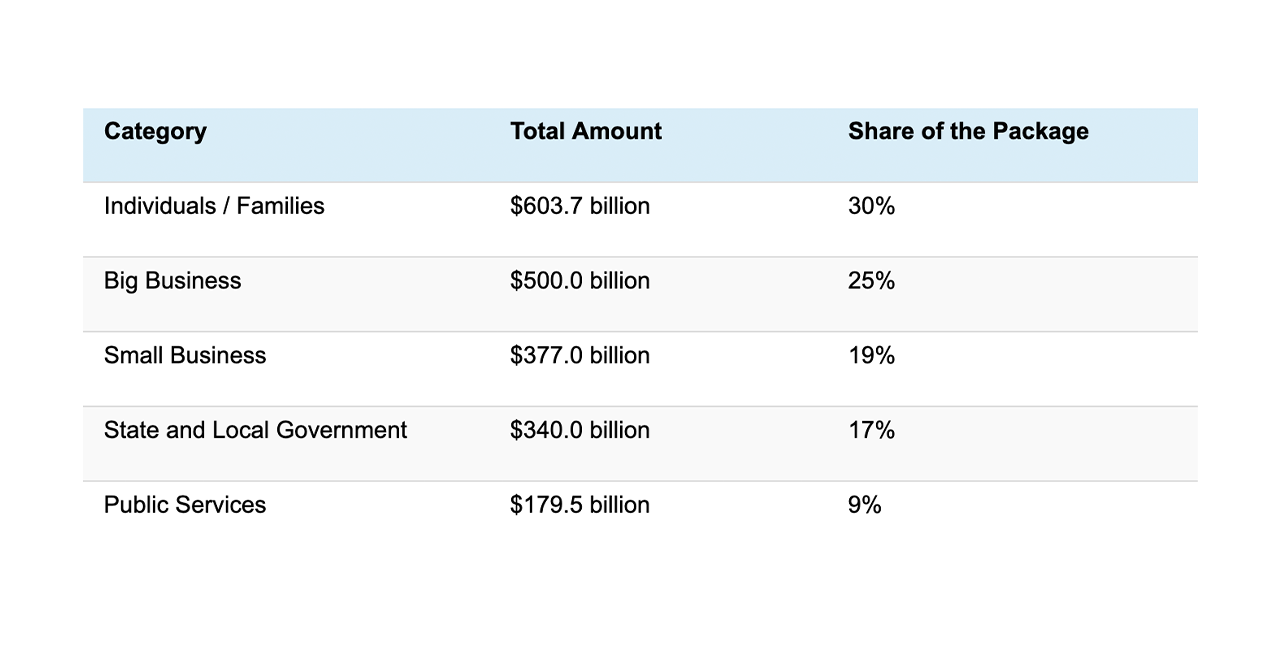 Although the COVID-19 stimulus is incredibly complex, here are some of the most important parts to be aware of:
If you want to find out who gets what and why that matters, you can learn more here.
Important information for you to know
If you qualify and you've provided your direct deposit information to the IRS (when you filed your taxes) then the money will be deposited into that account. If not, the check will be mailed to you, this could take up to four months. - Learn more here.
Learn more about direct payments and when you might expect to receive them here. The IRS has created a link where it will provide updates about the stimulus payment checks.
Note: It might take a while to receive your check, so you may want to use your emergency fund for now, and replenish it with your stimulus check once that money arrives. If you don't have an emergency fund, read our blog on why a rainy day fund is so important.