Douugh Portfolio Jars are here!
Introducing smart, diversified portfolios managed by professionals.

We're excited to introduce you to Portfolio Jars. Giving you access to investment portfolios that blend professional managers with the efficiency of smart technology, to help you to invest in your future. All at no extra cost.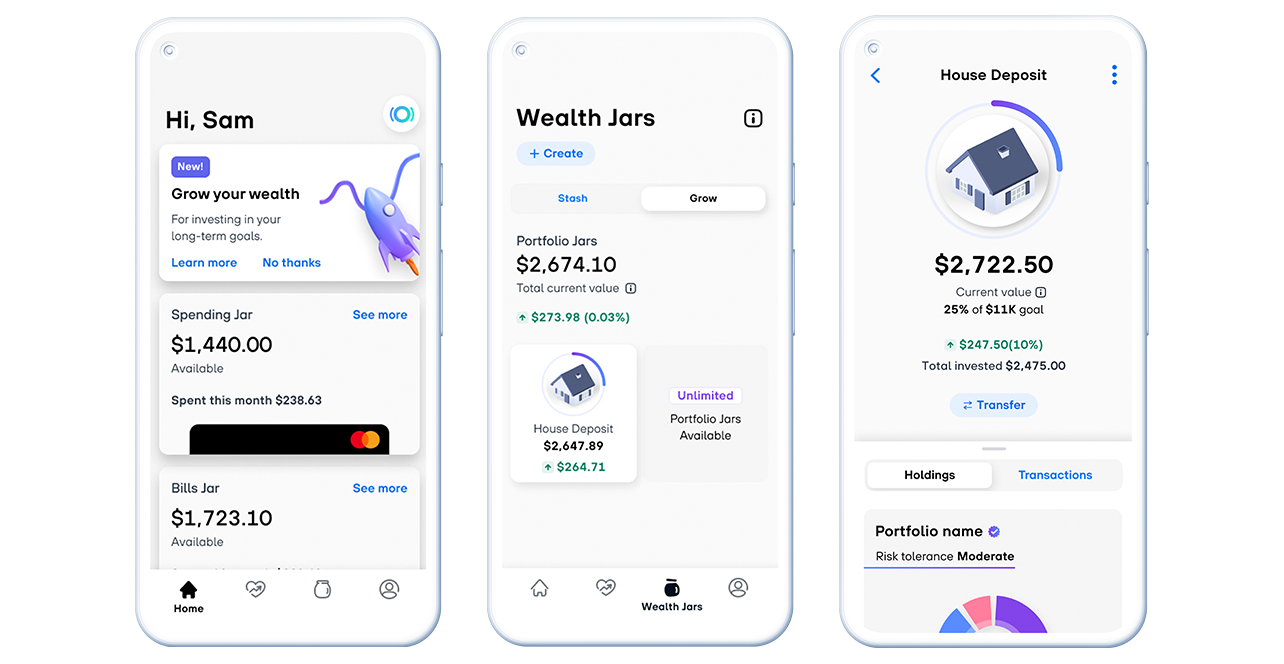 Sophisticated wealth management has typically been reserved for the privileged. Seamlessly integrated into your Douugh app, you can now effortlessly invest your hard-earned money with Douugh Wealth.

We've designed an experience for you, so unlike everyone else, we put your investing goals at the center of your financial wellness plan, so you can grow your long-term wealth in a low-cost, diversified portfolio based on your risk appetite, that's right for you and your goals.
With our team of professional managers making sure portfolios are working hard towards your individual goals, alongside technology that will continually monitor portfolios and rebalance accounts, you can invest with little worry or time.
​​Douugh Wealth
We've built a new dedicated business to make sure you're always supported. Our brand new subsidiary, Douugh Wealth, is run by a fantastic team of professionals managing your portfolios through the good times and the bad, so you don't have to worry. All done through your one smart Douugh bank account.
To support your long-term goals, we focus on investing in transformative companies that positively impact our environment and disrupt large segments of the economy through innovation. We believe that well-diversified and balanced portfolios, tilted to companies like Tesla, Square, Coinbase, Netflix, and Teladoc Health, will lead to superior returns over the long-term. Additionally, focusing on companies that emphasize responsibility, sustainability, and innovation whilst possessing viable technologies is key for persistent long-term growth.
Introducing our new Portfolio Jars
We've changed how your Savings Jars look and feel. Wealth Jars is your new home for your savings and investing - one easy place to track your wealth in the Douugh smart banking app. You can now either Stash for the short-term, or potentially grow your money by investing it in a Portfolio Jar, putting your money to work for the long-term. You can set up as many Portfolio Jars as you like, to help you organize your money for your goals.
You're able to choose from Core or Sustainable portfolios with Conservative, Moderate, or Aggressive options, all curated by professional fund managers, tailored to your risk appetite (and matched to your goal). Giving you the flexibility you want with your investments.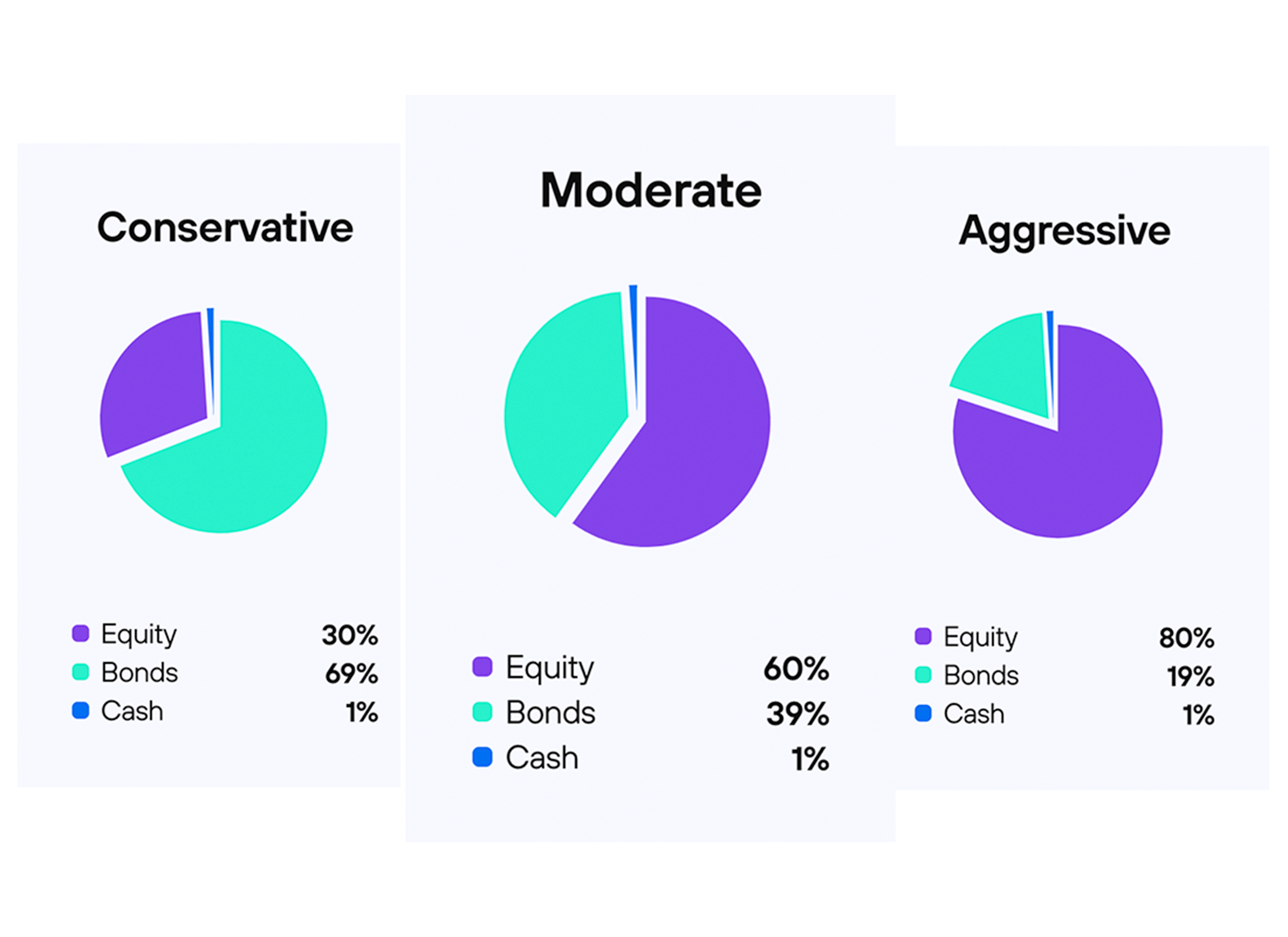 These static percentage snapshots are subject to change and are correct upon posting - 09/09/2021. To view up-to-date information about our portfolios visit https://www.douugh.com/invest/.
Sustainability
Our sustainable portfolio options invest in businesses that work to improve our planet and communities. They also avoid companies that are directly involved in practices that negatively impact the world we live in like; Fossil Fuels, Tobacco, Fur, or Military and Weapons.
Diversification
Portfolio Jars give access to professional investment managers who create diversified and balanced portfolios to fit individual needs, supported with advanced technology that continually works hard to keep you on track.
Keeping you accountable
To reinforce good money habits and help to advance financial knowledge and literacy, Douugh will provide regular updates and alerts that help you learn about investing principles like; compounding, diversification, asset allocation, and risk management. We'll be myth-busting investing, allowing you to navigate through these uncharted waters with ease.
Reaching your goals
Douugh Wealth has launched at the perfect time to build customer wealth autonomously while helping each individual reach their goals.
"At Douugh, we know that investing can be hard, time-consuming, expensive, and even sometimes scary so we want to give our customers the best opportunity to grow their money, achieve their goals and improve their overall financial health," said Douugh Head of Wealth Tom Culver. "Since we're all more likely to do something if we're engaged, we've also designed Dough Wealth to be personalized, goals-based, and engaging to ensure customers get the most out of learning how to invest in their future."
As part of our core mission, Douugh teaches customers how to manage and grow their money in a responsible way by investing and committing to long-term wealth goals. Douugh's unique approach to financial management provides a holistic and consolidated dashboard for everything from budgeting to investing in one app, putting your finances on Autopilot so you can enjoy financial fitness.
We can't wait for you to use our new Portfolio Jars, if you've got any feedback email us at product@douugh.com or if you experience any issues please let us know by email help@douugh.com.
Advisory services provided by Douugh Wealth LLC, an SEC-registered investment adviser. Brokerage services provided to clients of Douugh Wealth LLC by ©DriveWealth, LLC. DriveWealth is a registered broker dealer, member of FINRA and SIPC.
Investments in securities: Not FDIC Insured - No Bank Guarantee - May Lose Value.
All investing involves risk, including the possible loss of money you invest, and past performance does not guarantee future performance. Before investing, consider your investment objectives and Douugh Wealth's charges and expenses. Douugh Wealth's internet-based advisory services are designed to assist clients in achieving discrete financial goals. They are not intended to provide comprehensive tax advice or financial planning with respect to every aspect of a client's financial situation and do not incorporate specific investments that clients hold elsewhere. For more details, see our Wrap Fee Program Brochure and Form CRS. Not an offer, solicitation of an offer, or advice to buy or sell securities in jurisdictions where Douugh Wealth, LLC is not registered.
¹ To access products and services provided by Douugh Wealth LLC clients will need to pay Douugh's financial fitness membership fee of $4.99/month.